story and photos by Kayte Deioma
My friends in Berlin have a "been there, done that" attitude about many of the tourist attractions in the city. Not so the Jewish Museum Berlin. Even though she'd been there before, my friend Renate is willing to take a day off work to accompany Julie and me to this relatively recent addition to the Berlin museum scene.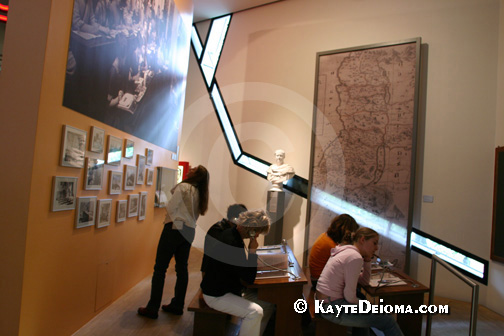 The Holocaust is generally the first thing that comes to my mind when thinking of Jewish history in Germany, and I'm not always in the right frame of mind to re-visit that chapter. Renate assures me that this is just a small part of the many centuries of customs and contributions covered by the Jewish Museum Berlin. It's raining…the preferred weather for visiting dark subjects.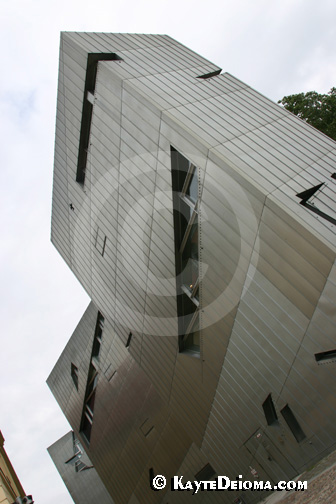 We take the subway to Klosterstrasse and walk east to Lindenstrasse. The new Jewish Museum building is a violently angular structure, with zigzagging windows slicing scars across its metal surface. You have to gain a bit of distance from the edifice to really appreciate its sculpted construction. The original Baroque façade of the entrance is jarring next to the drama of its jagged zinc-paneled offspring. It is certainly a building that makes you ask "Why this?" and go about trying to find an answer.
Fortunately, there is plenty of material available on the building and its architect. Books from the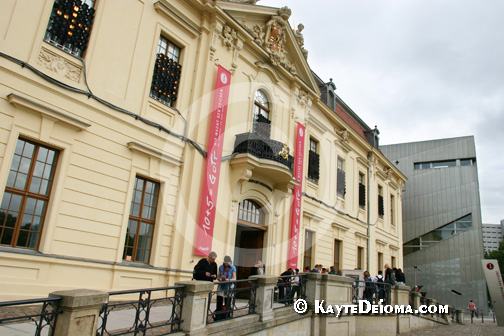 bookshop or a guided architectural tour give insight into architect Daniel Libeskind's complex concept. His design is based on interconnected points in German and Jewish history forming a deconstructed star, an unfinished Schoenberg opera, a text by Walter Benjamin, and the void left in Berlin by the loss of all the deported Jews and their cultural and intellectual contributions. That's a lot of concept to be executed in an architectural structure.
We enter through the high security metal detectors and pick up our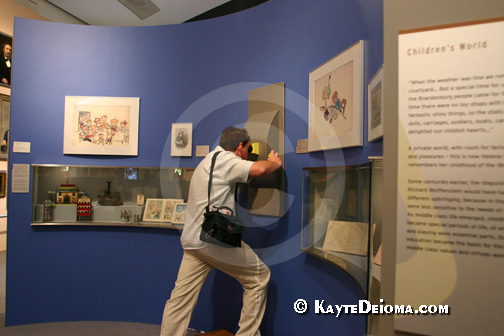 museum maps. A brochure describes 13 different guided tours you can choose from with different themes, two specifically for young children 5 to 7 and 8 to 11. Rather than wait for a tour (which one out of so many?), we decide to explore on our own.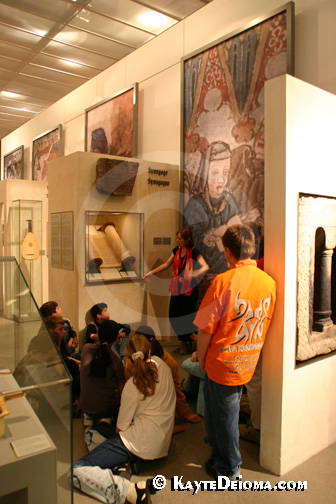 I was never very good in history. I can remember the sense and feel of important historical events, but not the names, places or dates. The exhibition at the Jewish Museum Berlin was designed for people like me. The dates and names are there, but the substance is in the sense and feel and experience. Starting upstairs in the middle ages, we walk though narrow aisles with displays of paintings and artifacts representing trade, diversion and religious practice.
We come across a pomegranate tree with a spiral staircase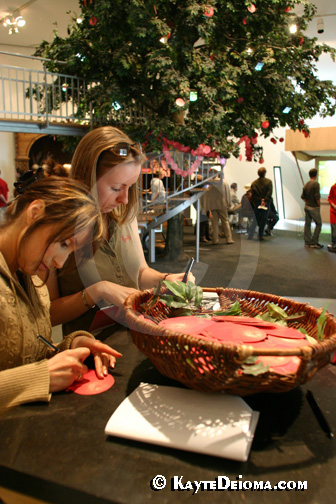 leading up the trunk. We are directed to write a wish on a piece of paper and tie it to the tree and our wish will come true. Rumor has it that the original apple tree in the Garden of Eden was a pomegranate, but I'm not sure how "lucky" that was, since it cast us out of paradise. However, I am not one to turn down a free wish. I write down my wish and look for an auspicious branch to tie it to. Renate finds a nice low branch for hers. Julie and I climb up the spiral stairs deep into the branches to tie our wishes. After all, how often do you have the luxury of a spiral staircase when you want to climb a tree?
Rich displays of music, literature, art and science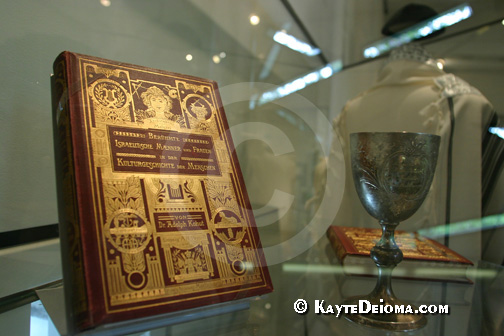 lead us through the centuries. Interactive exhibits let me write out my name in Hebrew, help a tradeswoman pack for a business trip and listen to recordings of speeches by Albert Einstein. Information panels take us through the bureaucratic decisions leading to the extermination of German Jews. Stories of loss, resistance and survival
Descending once again to the lower level, we enter Daniel Libeskind's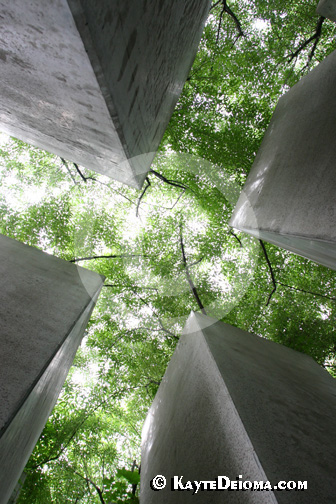 graphic architectural interpretation of the darkest part of Jewish history in Berlin. Three wide, empty, sloping corridors crisscross the lower level. One corridor is labeled the Axis of Exile representing the exile and emigration of Jews from Germany. On the wall is a sparse collection of artifacts that a family was able to take with them leaving Berlin. This Axis leads outside to the Garden of Exile. The garden is a grid of 48 concrete pillars filled with Berlin soil with trees growing out the top, and the 49 th pillar with soil from Jerusalem.
The second corridor is the Axis of Holocaust. It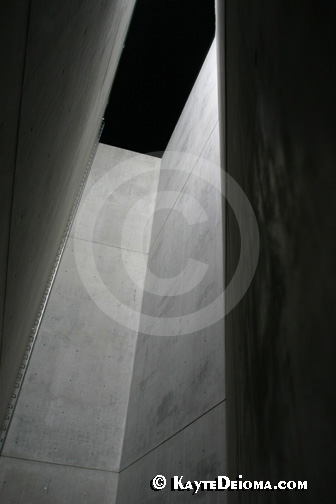 dead-ends at a void. This is a dark columnar room with a small opening of light at the top. We are allowed to enter, a couple people at a time, to experience the feeling of being cut off from the world outside. The third and longest corridor is the Axis of continuity, which connects the entrance/exit in the old Baroque museum building climbing steeply upward back to the exhibition space. There is not a natural path to lead you through these corridors, so we end up backtracking and miss a few turns.
Despite the best efforts of the exhibition design team of Wuerth &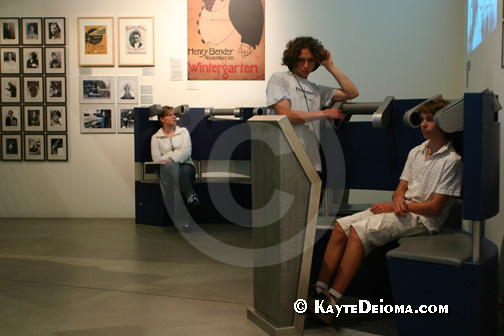 Winderoll to minimize museum fatigue among visitors, we have absorbed our fill. In searching for a restroom, which is not the easiest thing to find, we stumble across a coffee vendor and stop to have a welcome cup of coffee on the one available bench in front of the kosher Gummi Bear machine. A café would be nice, but we are happy to rest our feet for a few minutes and share our impressions of the museum before facing the rainy walk back to the subway.
For more information visit Jewish Museum Berlin