story and photos by Kayte Deioma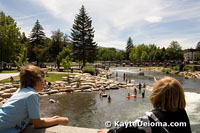 The city of Reno, Nevada, best known for casinos and quickie divorces, has been remaking itself more in keeping with its adventurous surroundings and family values. While the casinos are still there and the divorces still available, the proximity to Lake Tahoe has fostered the expansion of every kind of outdoor activity imaginable, including a whitewater park on the Truckee river right through the center of town.
"The biggest little city in the world," as Reno calls itself, boasts 300 days of sunshine a year, perfect for such outdoor adventures, which is why people can be caught off guard when the weather decides to act up. While there is certainly more to do outdoors here than in, there are plenty of indoor options beyond the casinos to keep the whole family entertained.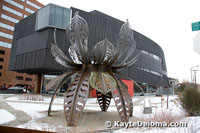 The Nevada Museum of Art, founded in 1931, is one of the oldest art museums in the west. Its new home, designed by architect Will Bruder and completed in 2003, has become one of Nevada's most important structures, and with its curved black façade and slatted windows is as much a work of art as any of its contents. The museum hosts a variety of traveling exhibits as well as rotating selections from the permanent collection of predominantly western artists. www.nevadaart.org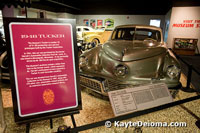 The National Automobile Museum (The Harrah Collection) will take you back in history to the invention of the automobile and follow its progress through time. One-of-a-kind custom creations share space with vehicles that survived exciting historic feats. Street scenes present cars of different decades parked along a typical street with fashions of the day in storefront windows. You can watch cars being restored in the working garage, or play a game of 'pin the part on the Model T' in the children's workshop. www.automuseum.org.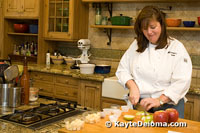 If you have a little advance notice of inclement weather or just like to cook, a class at the Nothing To It! Culinary Center will keep you warm, dry and well fed. Classes are designed by cuisine, technique, theme or whatever strikes the fancy of the Master Chefs. Special classes are offered periodically for kids, teens or just for couples. www.nothingtoit.com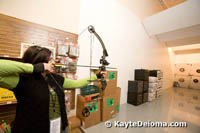 Just outside of Reno, off route 80, you'll find Cabela's outdoor outfitter. Now I wouldn't normally recommend a sporting goods store for a family outing on a rainy day, but Cabela's is something out of the ordinary. You can go to Cabela's to shop, or you can go to Cabela's to play with the gear and games and look at the natural history exhibits.
At the Game Shack, you can test out a variety of hunting and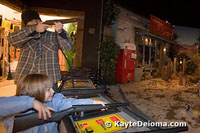 fishing video games right there in the store. You can hone your hunting skills further on an indoor laser light shooting range with kid-size arcade rifles available for target practice, or try out real bows and arrows in the archery room.
A 26,000 gallon aquarium is one centerpiece of the store, with the stuffed counterparts to the live fish high on the walls above the waders and fishing supplies.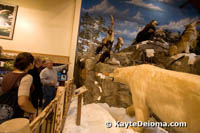 A museum-quality taxidermy display gets you up close and personal with hundreds of animals in wildlife dioramas from gofers and mountain lions to zebras, a polar bear, an elephant and a rhinoceros, to name just a few.
If you have a taste for wild game after viewing the animal specimens, you can order it at the on-site restaurant. Or, if you'd rather let Bambi run free, you can shop for the latest ski and hiking fashions. www.cabelas.com