story and photos by Kayte Deioma
A couple blocks from the main Plaza in an unassuming building on the corner of Johnson and Guadalupe is the Awakening Museum. It isn't like other grand museums you'll find in Santa Fe. It probably won't keep you occupied all day. But if you're of a spiritual inclination, looking to slow your trip for a few moments of reflection and meditation or just curious, it's a great place to stop in during a passing shower.
The museum is actually a single room-sized art experience. Created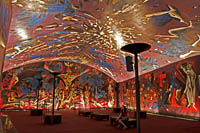 by French artist Jean-Claude Gaugy in an abandoned high school gymnasium in West Virginia, the piece is a series of 400 carved and painted wood panels that cover 8,000 square feet of walls and ceiling. The work was transported in 2002 from West Virginia to its current home in Santa Fe, where Gaugy has his summer studio. The Awakening expresses Gaugy's spiritual development and connection with the divine.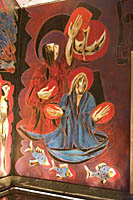 The entrance fee of $3 or a can of food entitles you to a 10 minute audio tour of the artwork. Comfortable padded benches allow you to sit and contemplate the walls or lie on your back to study the ceiling. The central figure on the vaulted ceiling is an abstract medallion of light, color and angles that Gaugy created to symbolize "the inexpressible power and creativity of God, without reference to any specific institutionalized religious belief." The medallion is surrounded by seeking figures turned toward and away from the light. The wall panels depict Gaugy's interpretation of various biblical and other religious themes including the four horsemen of the apocalypse, the last supper, Christ's resurrection and St. Francis ringed with birds and animals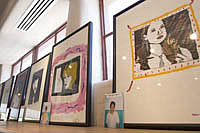 If it's not raining, the meditation garden is a pleasant place to spend some quiet time. There is also a great book and gift shop which sometimes features the art of participants in the Museum's youth outreach programs.
For more information, visit www.TheAwakeningMueum.org.