story and photos by Kayte Deioma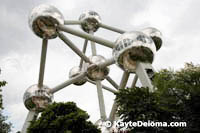 One of Brussels' most striking landmarks is the Atomium, a giant iron atom that towers over the Heysel Plateu. The 390 foot structure, designed by engineer André Waterkyn, was built for the 1958 International Exposition of Brussels. Like the Eiffel Tower, it was planned as a temporary attraction, but due to popular demand, became a permanent part of the Brussels landscape. A recent renovation, completed in 2006, restored the steel globes to their original splendor.
Although there are temporary exhibits mounted in some of the globes, the main attraction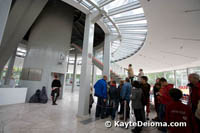 is the structure itself. From an architectural and engineering standpoint, as well as from a purely aesthetic view, to put it in sophisticated terms, it's really cool!
You get your tickets in a separate little building before entering the Atomium.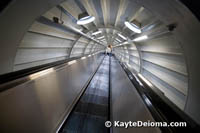 There are nine spheres connected by 20 tubes. There's an elevator straight up the middle which will take you to the snack bar in the middle sphere and the casual restaurant at the top. Each tube is only wide enough for either one escalator or a staircase, so to visit the side globes, you follow the escalators up, and take the stairs back down the other side.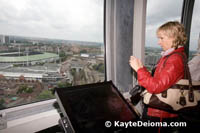 You start your visit by taking the elevator to the top to check out the panoramic view over the neighboring Mini-Europe at the Bruparck to the alternating old and new neighborhoods and stretches of green parks that make up greater Brussels. The observation floor and the restaurant above it are in the only globe with windows giving you the 360 degree panoramic view. Interactive monitors help to orient you to what you are seeing in the distance.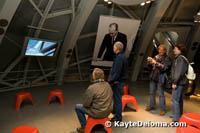 Three of the spheres below have exhibit space. A permanent exhibit features giant photos of some of the key players in the construction and a great 12 minute silent video documenting the construction of the Atomium. The other two areas have changing exhibits.
The Children's Sphere is used for school groups <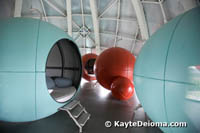 who can come and spend the night as part of an educational program. The domed upper portion of the sphere is filled with smaller turquoise and red globes suspended from the ceiling. Each one has a slice out of the side and room for several kids to crawl into the cubby hole onto the round mattress piled with pillows. Unfortunately, this room is not open to the public, so you can only look through the window.
From the Atomium a pedestrian bridge leads across the freeway to the Bruparck, a combination theme park and entertainment complex. One of its attractions is Mini-Europe, a collection of European landmark buildings from the Acropolis to Big Ben and the Eiffel Tower built at 1/25 scale. The Bruparck is also home to the Océade, an indoor/outdoor water park; Kineopolis, a 24 screen movie theater;and The Village, a collection of restaurants, bars and shops.
The Atomium
Square de l'Atomium
1020 Brussels
32 (0) 2 475 4775
www.atomium.be
Metro line A1 to Heysel station