story and photos by Kayte Deioma
Quad Cities is a very family friendly destination, with children's programs or activities at most attractions. Even the hotel where we stayed at the Isle of Capri Casino had an indoor pool that was always packed with kids, and cribs were available for the room. But there are a couple places in the Quad Cities that are just kid heaven.
Family Museum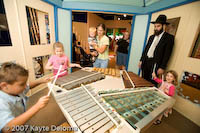 For toddlers through pre-teens, the Family Museum in Bettendorf offers hands-on learning experiences that can keep youngsters entertained all day. My niece Becca, 9 and nephew Declan, 2, enjoyed their stay so much that we squeezed in a second visit before leaving town.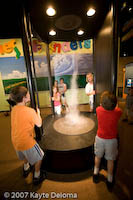 Making noise is always fun, so applying the mallets to xylophones made of different materials and banging on steel drums in a special sound-proof room in Rhythm Alley were perfect 2-year-old diversions that Becca also enjoyed.
In the Amazing Acres exhibit, you can puff a cloud into existence, spin up a tornado or generate lighting in the weather display. Drive a John Deer combine through virtual corn fields; learn how farm goods become food at the market; groom and ride a stuffed horse, or fill up the car with bio-fuel. Our little squirrels enjoyed scampering up a giant tree trunk, and Declan became attached to a wooly sheep that was almost as big as he was.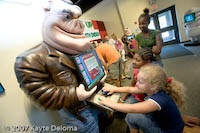 In Watts Up with Energy, see how hard you have to peddle a bicycle to generate enough energy to run a light bulb, a blender or a blow-dryer. The Energy Hog, a giant pig in a leather jacket, holds an interactive display that uses computer games to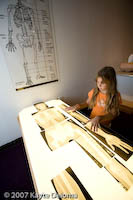 teach lessons on saving energy around the house.
The Human Body exhibit allows kids to assemble a skeleton like a puzzle from xrays of different bones, and try to insert all the organs in the right spaces in a plastic torso. A high-powered microscope gives a close up look at tiny blood cells; while a giant model of a heart lets you walk right through its chambers.
There's a special play area called the Garden where parents can let toddlers loose to climb and explore. The gift shop is full of learning-inspired toys, and if you need a lunch break, there's a café in the Library next door.
Michael's Fun World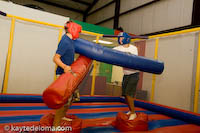 For kids 5 through teens and adults, another great option is Michael's Fun World. This was Becca's favorite stop on our trip. Outdoors, Michael's has a go kart track and miniature golf course, but on a rainy day you'll want to head for the indoor fun.
The main warehouse-size building is filled with inflated play areas with competitive games like trampoline basketball and jousting. There's even an air-filled obstacle course for two. Of course there's one just for bouncing that requires no skill at all, just socks.
A climbing, sliding playground that rises three stories into the rafters, a rock climbing wall and the inflatables are all included in the price of admission. There's also a full arcade with video games, simulators, skill games and a couple lanes of Bowlingo requiring the purchase of tokens.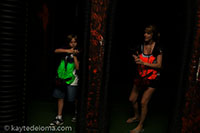 For hunters and warriors, there's a separate room and a separate fee for laser tag. Wearing glow-in-the-dark green and orange vests, two teams face off against each other in a dark room, skulking among pseudo-structures to shoot the enemy's vests and disable their lasers. They aren't' finished for good; they just have to recharge before getting back in the game.
A separate building holds the baseball and softball batting cages with automatic pitching machines.
Family Museum
2900 Learning Campus Drive
Bettendorf, IA 52722
(563) 344-4106
www.familymuseum.org
Michael's Fun World
345 West 76th Street
Davenport, IA 52806
(563) 386-3826
www.michaelsfunworld.com
?