Story by Kayte Deioma, photos courtesy of Shear Madness
The solve-it-yourself murder mystery Shear Madness is the granddaddy on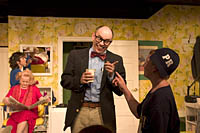 the local interactive scene. The Boston production is the longest running non-musical play in the country. Yet each show you see will never have been seen before. Like never stepping in the same river twice, it is not possible to see the a repeat production of Shear Madness. Audience participation, local and pop culture references and up-to-the-minute improvised dialogue from the actors keep the show fresh. Pay attention! Your eye-witness testimony will be important to the plot.
The comedy takes place in a beauty salon in Boston's Beacon Hill (unless you see it in another city, then it will be local there too). The stage is set with a gay barber, a feisty beautician, their three customers and the piano music coming from the upstairs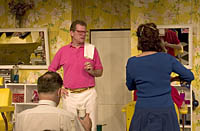 tenant, the famed pianist Isabel Czerny. With a lot of ins and outs, pounding on pipes and slamming doors, the noisy Isabel is silenced and it's left to the audience to help the undercover detectives – one of whom was staking out the place from the barber chair – to figure out whodunit.
There is so much going on, the eye-witnesses all see different things. During the intermission you have the chance to speak with the detectives, lay out your suspicions and give your witness statement. When the play resumes, you can interrogate the suspects directly, calling out questions from your seat. Audience members of all ages get into the spirit and are convinced they know exactly what happened. Ultimately, an audience vote determines who did the dastardly deed on any given night.
Hey Mr. Detective, where were you when Ms. Czerny was murdered? You left the salon right before the main event. Why aren't you on the suspect list? Hmm. Next time I'm voting for the detective for murderer.
Shear Madness plays at the Charles Playhouse, Stage II, 74 Warrenton St., Boston. Check the web site www.shearmadness.com or call (617) 426-5225 for schedule and pricing information.