The Metropolitan Museum of Art is one of the world's largest and finest museums. Ironically, that's why I hadn't visited it in any of my previous trips to New York. I felt that a great art museum like the Louvre, the Prado or the Met deserves a full day to really appreciate its collections, and I've never stayed in New York long enough at one time to be willing to devote a whole day to one activity.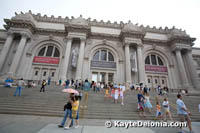 Since I was in New York this time with my sister and her kids, I decided that it was more important for the kids to get a taste of great art than to worry about not having time to see the whole thing, and thereby miss everything. We didn't expect the kids to have the patience to stay in a museum more than a couple hours anyway.
I was much more relaxed once I gave myself permission to miss lots of wonderful stuff.
The Metropolitan Museum of Art is located in a massive Gothic-Revival building on Fifth Avenue along the western edge of Central Park. After getting our tickets, we went to the information booth in the center of the Great Hall to find out if there were any family programs scheduled that day. It was a Saturday, and we were in luck with a "Hello, Met!" family introduction to the museum scheduled an hour later.
With just an hour for exploration on our own, we chose to start with the Egyptian exhibit, with the largest collection of Egyptian artifacts outside Cairo.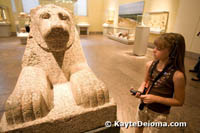 We rented the audio tour headsets, which I don't usually do on my own, but it turned out to be great for the kids. It was easier for the younger ones than reading the information panels. As we moved through the colorful sarcophagi, carved limestone monuments and painted hieroglyphics, they really enjoyed punching in the numbers and having control over which descriptions they heard. There wasn't a child-friendly version of the tour like there is some places, but they seemed to do just fine.
Becca was somewhat selective in which pieces she wanted to learn more about, but Sarah could have spent all day "listening to stories" and didn't appreciate being hurried to keep up.
We hadn't made it much farther than the maze of corridors through the Tomb of Perneb – a part original, part reconstruction of a 4300 year-old Egyptian burial chamber – when it was time to head downstairs to the family program.
The Hello, Met! Family Program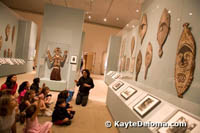 We met the rest of the families downstairs in the Uris Center for Education. After a brief introduction, our guide, Amir Parsa, took us back upstairs to the Arts of Africa, Oceania and the Americas. We all settled on the floor in front of a glass case lined with carved wooden masks from Mali. After a brief Q and A about the use of masks around the world, we learned more about these Dogon Masks, used in mourning dances several years after the person died.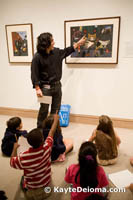 We moved around the corner to Papua New Guinea to study more masks and spirit boards from the temporary exhibit "Coaxing the Spirits to Dance: Art of the Papuan Gulf." After studying the intricately carved and painted spirit boards and learning how art and culture go hand in hand, children and parents were given paper and pencils to copy their favorite board designs, or create their own.
Our last stop on the Hello, Met tour was in the Modern Art wing, where our guide used a series of Jacob Lawrence paintings to talk about shapes and colors before distributing colored pencils and letting the budding artists get back to work, either coloring their spirit boards or creating something new.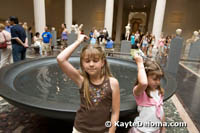 After our hour-long journey into art appreciation, we planned our exit route to take in the new Greek and Roman sculpture exhibit in the sky-lit Leon Levy and Shelby White Court. The atrium, populated with Roman statues from the first century BC to the third century AD, was a great preview for Derick, who would soon be setting off on an excursion to Italy.
The girls took the opportunity to throw a coin in the fountain and make a wish. They wouldn't reveal their wishes. Maybe, like Trevi, it was a wish that will bring them back to the Met someday.
The Metropolitan Museum of Art
1000 Fifth Avenue at 82nd Street
New York, New York 10028-0198
General Information: 212-535-7710
www.metmuseum.org
The Metropolitan Museum of Art is included in the NYC Go Select Pass and the NYC Explorer Pass.
Reviews of the Metropolitan Museum of Art