The largest traditional Mexican market in Guadalajara goes by many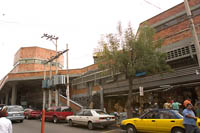 names. The official name is Mercado Libertad or Liberty Market. Most locals refer to it as Mercado San Juan de Dios ( St. John of God Market) after the nearby church and neighborhood of the same name. Still others call it Mercado "Taiwan de Dios" for the piles of imported electronics sold there. By any name, Latin America's largest indoor market can keep you occupied and out of the rain for a good long while, even if you're not a shopper. If you are a shopper, feel free to haggle, but keep in mind that wages in Mexico are really low, so don't try to drive too hard a bargain.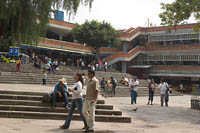 With over 1000 vendors, there's not much for sale that can't be found at the Mercado. The problem is that the market is so vast and the aisles are so narrow, that many people wander around for an hour and think they've seen it all, when they've barely scratched the surface. I can't claim to be an expert. I spent about three hours and still only saw a fraction of what there was to see.
There are many entrances to the Mercado. If you're walking around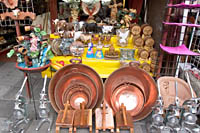 the plazas downtown, you'll most likely be approaching from the north or west. From the north, you'll probably want to skip most of the housewares in the outer booths along the long north side. If you don't have a lot of time, walk along the outside of the market to where you see the more traditional copper vats and clay cooking pots.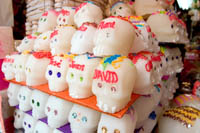 Keep an eye out on your way for some of the traditional Mexican sweets, like the sugar skulls for Day of the Dead. Then look for the basket vendor at the corner of an aisle that looks through to daylight on the other side. That should take you past hand made wooden toys, maracas and other arts and craft vendors on the way in to the patio.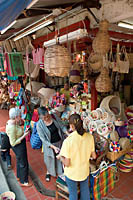 On the closest (north) side of the patio, you'll find hand-woven baskets and bags, papier-mâché masks and dolls, clay and pottery miniatures and a wide variety of folk arts from the Guadalajara Metro area, the most important producer of hand crafts in the country.
The south and western sides of the patio have produce vendors selling whole and cut up fruit, nuts, dried beans, yams and a variety of things I didn't recognize and couldn't translate (or find in a dictionary). The eastern side of the patio below the parking structure houses vendors of leather sandals, shoes and boots.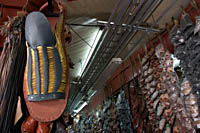 But if you're looking for Mexican-made leather boots and sandals, you might want to start at the northern entrance that leads straight up the stairs to a row of cobblers and shoe vendors. You may spot one of Maximo Pelayo's giant huarache sandals hanging at the top of the stairway above the rows of footwear made for normal-sized folks. His giant huaraches have found their way into Mexican restaurants and other establishments on both sides of the border. He makes them right there on the spot.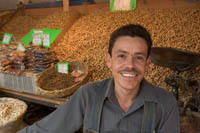 Vendors tend to be grouped together by product categories, so if you're looking for something in particular, it's best to ask directions to that part of the market, although within this order there is also a random mix of vendors outside of their product zone. Most vendors know numbers and prices in English. Some also know enough to point you in the right direction to find what you're looking for. Toiletries, perfumes, watches, office supplies, groceries…everything but packaged liquor and pharmaceuticals can be bought at the market.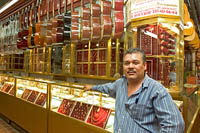 There's a section for handmade leather goods, from belts to jackets to boots to hats. There are long counters of silver and gold jewelry with guitars hanging overhead, an odd, but common combination in this market. Guitars seem to go with anything.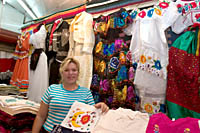 On the north side of level 2, along with cobblers and other shoe vendors, hardware (hammers, saws, etc.) can be found next to music CDs and electronics. Contemporary clothes and lots more shoes are on level three. If you're looking for Mexican blankets, traditional clothes, sombreros or T-shirts, the first aisle along the east end closest to the parking structure has a good selection.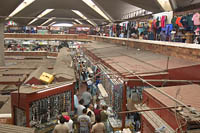 Levels two and three are open in the middle like a shopping mall, but rather than a fountain in the middle, you look down on the roofs of the first floor stalls. I could look across from the east side of level two and see all the food vendors on the west side, but I never made it over there in my three hours of exploring. I did come across another area of sandwich booths on the south side selling a variety of tortas (sandwiches on large rolls) between the butchers and the spice vendors.
For American sensibilities, the butcher aisle is a bit of a culture shock. Every part of the animal is hanging in front of you, exposed to the air and available for purchase. Seeing all the hanging heads, feet and intestines didn't really give me much of an appetite, but I found it fascinating.
I am not much of a shopper, but I could have spent all day meandering through the stalls. Alas, I had other places to go and things to do, so I'll have to venture back to Guadalajara to see what's on the other side of the Mercado San Juan de Dios another time.
Mercado Libertad (San Juan de Dios) is located on Avenida Javier Mina at Calle Independencia and is open 6 a.m. to 8 p.m. daily. Some vendors close or keep shorter hours on Sunday.