story and photos by Jamie Rector
There are certain things you can count on when traveling in Bangkok: Traditional Thai food, tuk tuks, crazy traffic and monsoons. When the torrential rain strikes, you can either go out and play in the storm, or you can opt for one of the many drier options. A rainy day is a great time to pick up those souvenirs for yourself, friends and family.
MBK Centre
For shopaholics, there are many options available for a binge. You can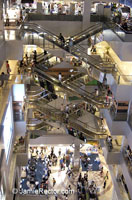 spend an entire day wandering the floors of the MBK ( Mah Boon Krong) , a huge eight-story mall across from Siam Square. It has a very modern, western feel. Among its 2000 shops are trendy boutiques, bootleg electronic stores and market-type kiosks that line the walkways. As you meander up the various floors you can find almost anything you need, and a plenty of things it hadn't occurred to you to covet.
Start out with a breakfast of johk, a traditional rice porridge with pork, in the mall food court or any of the 150 eating establishments. Then you can peruse the endless collection of fashion shops featuring anything from fine business clothing to young, hip rags. Cool shoes that will keep you looking hot and t-shirts that will get you laughing for as long as you want to read the silly, rude, politically charged comments. When you're done with your wardrobe, you can check out all the latest electronics; there are gadgets galore! Need a cell phone for your trip? You can pick one up with a prepaid card in it for just the amount of time you need.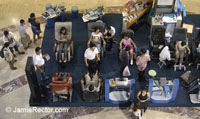 For a change of pace, or style, get a haircut, manicure, and pedicure. Not done pampering yourself? Stop by on the main floor for a public chair massage. However, I would only recommend this as a foot rest from the shopping. There are many locations that offer a traditional Thai massage, often for a very low price. I paid $4 for a one-hour Thai foot massage. Believe it or not! Don't forget to tip your masseuse.
When you tire of the shopping, or carrying your new collection of shopping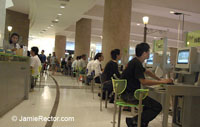 bags, another good break is a stop at the karaoke booths on the top floor. If you're too shy to sing yourself, you can watch other people making recordings of their version of a favorite song.
After spending the better part of the day in the mall, you may feel disconnected from the world. When you're ready to reconnect, there is an Internet café where you can check your email, write your friends and family, or surf the web.
Street Shopping
If you're not much of a mall shopper, you might like to take a look at the wilder side of Bangkok shopping. Walking the streets of many sections of town, such as Nana Plaza or Siam Square, you will find bargains galore.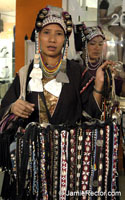 Hill tribe people sell necklaces or rings on any number of streets. They will happily show you the jewelry they have for sale. For the right price, they will even sell you their hand made headdresses.
Beyond the hill tribes, the labyrinth of shops will offer you a vast variety of wares including many of the things you'll find at the mall, but many other things as well. Along with clothing, electronics, and trinkets, you'll find a wide selection of bootleg CD's and DVD's – some which have just been released to theaters. The quality may not be so hot on the newest bootlegs, but as the selections get older, they get higher quality copies. Beware; it is illegal to bring them into the United States, so they could be confiscated if you're checked at customs. You can also find an array of odd deviant tools such as weaponry; brass knuckles, butterfly knives, swords, etc. You can order fake ID's right there on the street! Eeek, scary.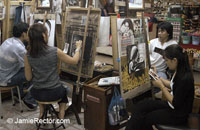 In the same area you'll find an abundance of artists' shops and studios. Artists work in clusters on their various paintings, drawings, pottery, ceramics, metalwork, woodwork and other crafts right there for you to watch. I, for one, could spend hours watching these talented people make beautiful art right before my eyes.
Also, notorious for it's counterfeit designer products, take a wander into Patpong to find Rolex, Gucci, Prada, Armani, Hilfiger and more. Some of the products are quality, but some you'll find stop working or fall apart after a few months. There's no way to tell.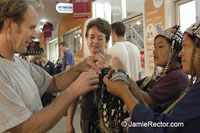 Keep in mind that prices are often inflated for tourists and it is up to you to bargain the price down. This goes mostly for shopping on the street. If you find a nice painting on the street for $30, you can likely get it for $20 or less. Even in the mall, prices are negotiable. Show interest and express that the price is too high. Be prepared to walk away as that is sometimes the key to getting the price to finally drop.
They will often use calculators to keep any language barrier from confusing the deal. They will give you an initial price and you can use their calculator to show them what you want to pay for their item. After a healthy sport of negotiation, there should be a happy buyer and a happy seller.
Keep in mind that these people don't make nearly the money we do, so don't twist their arms too much. Their arts, crafts and lives deserve to be supported. Find that middle ground and enjoy your shopping.
Shopping Tours
An alternative to the mall or wandering the streets is to sign up for an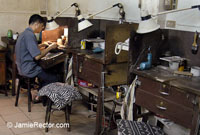 organized shopping tour. There are many tourist locations that can help you find one. Your guide will take you on a trip that will introduce you to the local jewelry makers at the Royal Lapidary. They will show you an informational video that explains the mines and how they choose their stones as well as how the jewelry is made. You can also get a peek at some of the jewelry makers working away in the back of the building. Finally on the showcase floor, you can purchase a nice ring, necklace or bracelet for yourself or as a souvenir gift.
The next stop on the tour is one of the many custom tailors that are well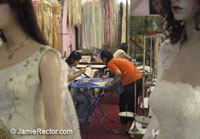 known around Bangkok. You can peruse tables full of catalogues showing off a variety of styles including shorts, blouses, pants, dresses, suits, etc. Each of these items can be custom made for you with a large assortment of fabrics and styles at a fraction of the price you would pay in London, Paris or the United States. Some will get your outfit to you within 24 hours, but it's best to give them a little bit of time and allow for more than one fitting.
Once you have found all your fabulous treasures, you can buy an extra bag to help you tote it all back home with you. Rain or shine, when it's time to shop, you will certainly find a nice variety of experiences just waiting for you to explore.
MBK Centre, Siam Square
Sky Train: National Stadium Station (W1), take footbridge to Tokyo Department Store.
Bangkok Shopping Tours at Tourism Thailand
Royal Lapidary
253 Ratchawithi Road , Opt. Chitlada Palace,
Bangkok 10300, Thailand
Tel. (662)243-0047-52