story and photos by Kayte Deioma
A great place to escape to on a rainy day is the cozy kitchen of the Ritz-Carlton Cancun Culinary Center. It's a great opportunity to interact with other travelers if you are traveling alone, but it's also perfect for couples or families with teens to share an entertaining learning experience.
The cooking classes offered range from French and Italian to Thai and Spa cuisine, but I decided to take my friend Debbie to learn to cook a "Real Mexican" meal before her Cancun wedding.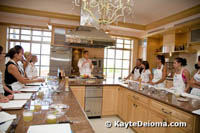 Chef Rory Dunaway had 13 students already assembled when we joined the group. Our classmates included a Randall and Athena and their daughters Ali and Sara from Salinas, California, Roland and Diana, restaurant owners from San Antonio, Texas, Tanya and Susie from the Washington, DC area, Michael and Linda from New Jersey, Gary and Kristina from New York and Mara from Washington, DC.
The class was split down two sides of the U-shaped work island in the middle of the room with Chef Rory at the bottom of the U and Debbie and I taking our places at the top of the branches. At each of our stations were cutting boards and a knives.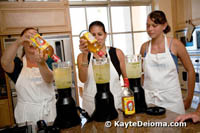 To get us in the right mood for Mexican cooking, we started off with a recipe for the perfect Margarita. Chef Rory supervised as Kristina and Diana volunteered to mix up batches of the high octane stuff using a nice Herradura Reposada tequila, while Sara blended the alcohol-free variety appropriate for her age.
Of course, at the Ritz, the perfect Mexican meal is not tacos or burritos, but rather a Seafood Ceviche followed by Red Snapper Veracruz Style with Mexican Rice and Lime Flan with Roasted Pineapple for dessert. One of the biggest challenges to any meal is getting it timed right so everything is done at the right time. For this menu, that meant starting with dessert.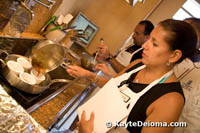 Divided into four teams, each with a separate stove, we went to work. While one team member layered pineapple, brown sugar and cinnamon sticks onto foil, another browned sugar and water into caramel syrup and a third creamed the remaining ingredients together for the flan. A convenient computer monitor displayed the recipe so we didn't have to keep referring to our printed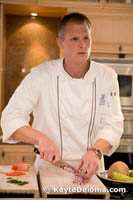 copy. Chef Rory and his assistants roamed among us to make sure we developed the proper browning and whisking techniques and didn't burn the sugar or clump the cream.
While the flan cups went in a water bath into the oven, we went back to our work stations to start on the ceviche. Now it was time for a lesson in chopping, dicing and slicing without losing the tips of our fingers. We also learned the trick to no-tears onions. The chef's assistants kept a close eye on our blades to make sure we were following directions.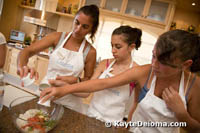 With our super-duper Viking chopping knives, we each made quick work of our assigned ingredients. Roland pressed lime juice to "cook" the scallops and shrimp while the rest of us sliced and diced. Food prep doesn't take any time at all if you have seven people preparing ingredients for one dish. After all our veggie and herb bits were added to the bowl, the whole thing went into the fridge to marinate.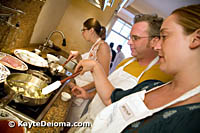 We divided up tasks once more with teams returning to the stove, some to work on the red snapper, others the rice. Debbie got fish duty on her team, while Ali mastered the Mexican rice recipe. I roamed around and took photos of everyone else hard at work.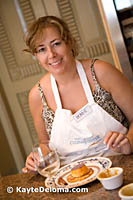 While the snapper joined the flan in the oven, the whole class enjoyed a glass of wine (or other beverage for the teens) out on the patio overlooking the aquamarine, cyan and cerulean-striped Caribbean. When we returned inside a few minutes later, our places at the counter were set for dinner and chairs had magically appeared. We were ready to try our handiwork.
I don't usually like ceviche when it's made with fish, so I was pleasantly surprised to find that I actually enjoyed this shrimp and scallop concoction. The red snapper smothered in a rich Veracruz-style tomato sauce was delicious. Our lime flan had been moved from the oven to the fridge while I wasn't looking, and popped nicely out of its ceramic cups onto the waiting roasted pineapple ring for a very complementary flavor combination.
The Ritz-Carlton Cancun Culinary Center
Retorno del Rey No. 36
Zona Hotelera
Cancún, Quintana Roo, Mexico
Phone: (998) 881-0808 ext. 5370
www.ritzcarlton.com