A Shot in the Rain: Guadalajara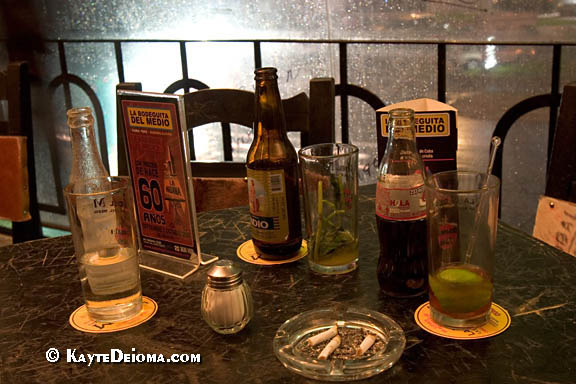 A rainy night at the Bodeguita del Medio Cuban Bar and Restaurant in Guadalajara, Mexico. Photo by 
Kayte Deioma
 A Rainy Day in ….Guadalajara, Mexico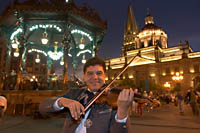 Guadalajara, Jalisco is known as the most Mexican of Mexican cities. It is the birthplace of such Mexican icons as Mariachi, Tequila and the Charro or Mexican cowboy. Many of the traditional folk arts we recognize as Mexican are also created here. It is Mexico's second largest city with a population of 1.6 million in the City proper and over four million in the metropolitan area. Greater Guadalajara includes the municipalities of Tlaqupaque, Zapopan and Tonolá as well as the city of Guadalajara. Each has its own distinct historical center, but their modern suburbs have become intertwined.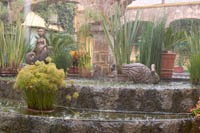 The "pearl of Jalisco," as the city is known, has a wonderful climate for year-round outdoor activities with average high temperatures in the 70s and 80s all year long. June through September is the rainy season, with July averaging 20 days of rain. El Nińo conditions extended the rain through October this year. That doesn't mean that it will rain all day long for days at a time, but you should always be prepared for a cloudburst.
My hotel, the Quinta Real, was prepared for this eventuality with umbrellas propped at every door and clear plastic curtains to roll down around the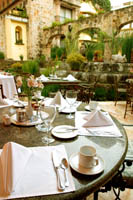 patio restaurant for the duration of the downpour. I could have ensconced myself with a good guide book in my golden suite to wait out the rain at this all-suite boutique hotel with a colonial flavor. I could have taken up residence in the bar for a signature Mariana (a kiwi strawberry margarita with salt and chili powder on the rim of the glass), or lingered in the restaurant to enjoy any of Chef Gabriel Duram's scrumptious meals accompanied by a variety of musicians who play for breakfast, lunch and dinner. I could have explored the collection of one-of-a-kind historical Spanish and Mexican artwork displayed throughout the hotel's public areas, or spent some time catching up on email in the business center. And to tell the truth, I did all of those things, but still found some rainy and not-so rainy moments to explore other rainy day possibilities in this beautiful city.
Guadalajara Features:
Tapatio Hospitality Revisited: Sometimes You Really Can Go Back
Shop til you drop at Mercado Libertad
For more rainy day Guadalajara alternatives, check out the Rainy Day Links page.