story and photos by Kayte Deioma
Whether you want to fit in a quick yoga or tai chi class before or after a day of business meetings or escape for a day of pampering away from the bustling crowds, Piedra Viva (Living Stone) Spa in Zapopan is just a quick taxi ride to paradise.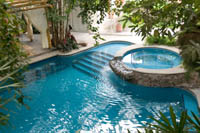 The only spa of its kind in the Guadalajara area, Piedra Viva's non-prepossessing grey exterior shelters an oasis of tranquility. Zen inspired treatment rooms on two levels open onto a glass-enclosed greenery-filled atrium sheltering an aqua blue pool with several gentle waterfalls. You can enjoy this tropical outdoor garden pool even in the pouring rain. In a separate, open courtyard is the Temazcal or traditional adobe sweat lodge.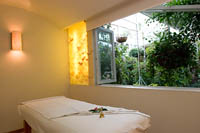 Piedra Viva offers an extensive menu of massage techniques from around the world, hydrotherapies, aromatherapies, vinotherapy (wine based treatments), body wraps of mud, algae or chocolate (to name just a few), exfoliations, facials, manicures and pedicures. The Jacuzzi, sauna, steam bath and pool are also available to clients before and after treatments. An on site restaurant offers a light menu to keep you going between treatments. Salads, sandwiches and omelets are the featured fare.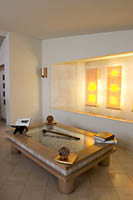 The Spa manager, Alejandra Padilla, speaks fluent English. The receptionist also speaks enough English to schedule your appointment, but if you need to discuss all your options and get recommendations, ask for Alejandra. The concierge at Quinta Real (or most other hotels) will be happy to make the call for you. If the hotel does arrange the treatment for you, they can also arrange for the Spa to cover your taxi.
Piedra Viva Spa is located at Xochitl 3709, Ciudad del Sol. Zapopan, Jalisco 45040. From within Mexico call (33) 3122-2280 for information or reservations. Reservations can also be made online atwww.piedravivaspa.com.