story and photos by Kayte Deioma
I wanted to treat my sister Carol, who is expecting a baby in November, to a night out in Cleveland (while she still can), but we didn't want to have to drive back to her house afterwards, so we got a room downtown at the historic Renaissance Cleveland Hotel on Public Square. The stately old hotel is linked to the Tower City Center, Gund Arena and Jacobs Field by indoor walkways and has an indoor swimming pool, fitness center, bar and restaurant, so you could actually find plenty to explore in the complex on a rainy day without ever stepping outside.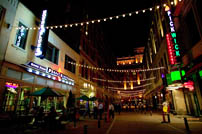 It wasn't raining, but we had another good rainy night destination in mind. We were headed for Pickwick & Frolic, an original Cleveland venue where we would find dinner, a comedy club and martini bar all under one roof – even on a Tuesday night. Located just a couple blocks from our hotel on East 4th Street, Pickwick & Frolic occupies the bottom two floors of the former Kresge Building, which was built on the foundations of the old Euclid Avenue Opera House. As a historic renovation, many of the buildings original features have been maintained. One of the few remaining historic streetscapes downtown, this block of East Fourth Street is also home to the recently opened Cleveland House of Blues.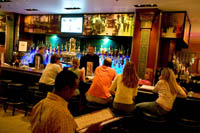 Pickwick and Frolic is four different venues in one. You enter into the Dickens-inspired Pickwick Restaurant, where "rustic American cuisine" is prepared in an open kitchen and a bar runs along the left side of the room. Around the other side of the bar, another dining area overlooks the Frolic Cabaret, where an all-women revue performs "Cabaret Rock" Thursday through Saturday. A stairway at the end of the open kitchen leads down toward the back of the building to Hilarities 4 th Street Comedy Club, which can seat over 400 with tiered tables, booths and skyboxes. Another ornamental curved stairway leads from the restaurant down to the cabaret area and to the adjacent red and white nouveau-deco Kevin's Martini Bar.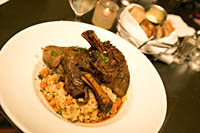 Since it wasn't a Cabaret evening, we dined in the restaurant. On the appetizer menu (prices from $2.50 to $10.95), I was tempted by the Wood Grilled Portabello Mushroom Cap Stuffed with Roasted Peppers, Goat Cheese, Eggplant & Roasted Pine Nuts, with Sweet Onion Dressing, but knowing that I never have room for an appetizer AND an entrée and I have no place to keep the leftovers, I decided to stick with just an entrée. Carol agreed. She chose the Pan Seared Sea Scallops with Butternut Coulis, Roasted Tomato-Spinach Ragout and Risotto. It was extremely difficult to choose from so many delectable-sounding oven-fired and wood-grilled selections (prices $12.95 to $28.95), but I finally opted for the Roasted Lamb Shank w ith Roasted Root Vegetable Risotto.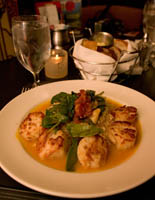 This may not be the place to go if you're counting calories. Most menu items are quite rich and portions are generous. My dinner came with two thick lamb shanks beautifully seasoned and nicely presented on a bed of risotto. But I have to admit that Carol's sea scallops, which she generously let me try, were even better. The tender scallops were nicely seared and cooked to melt-in-you-mouth perfection. The blend of roasted tomatoes, spinach and squash was a heavenly complement to the shellfish.
Having dinner at Pickwick entitled us to upgraded priority seating for the general admission price downstairs at Hilarities 4 th Street Comedy Club. I hadn't planned on dessert, but the cobbler of the day was peach blueberry and our server, Shonta (pronounced Shontay), offered to bring it to us downstairs, so we decided to split a piece with coffee at Hilarities.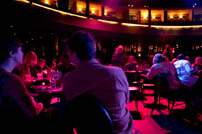 On this Tuesday night, since it was a smaller crowd, only the area immediately around the stage was open for seating, giving the club a very intimate, café feel, despite the size of the room. Many of the patrons who had skipped the restaurant and come straight to Hilarities were enjoying drinks and bar snacks from the bar menu. Servers continued to circulate throughout the performance. This was not one of the regularly scheduled smoke-free shows (Wednesdays at 8, Fridays at 7:30), but either smoking was at a minimum or the special air filtration system that was airlifted onto the roof of the building to keep clean air circulating was working really well, which I appreciated.




The lineup included host, Chris Hegedus, popular Cleveland area comic John Wellington and Lamar Williams from Rochester, New York, who recently returned from entertaining the troops in Iraq. Headliner, Tommy Blaze, formerly of the 1994-95 comedy sketch series, The Newz, kept us rolling in the aisles with his take on gender differences and the challenges of single parenting. His Spiderman interpretation was also quite striking.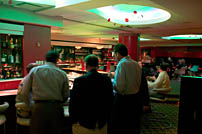 After the 90-minute show, Kevin's Martini Bar is open late for your choice of high-end cocktails. It was reasonably well-populated for a Tuesday night, but since the expectant mama wasn't drinking, we decided to head back to the hotel.
Hilarities 4 th Street Comedy Club tickets range from $10 to $18 depending on seating and day of the week. Special events can be more. Comedy shows run Tuesday through Thursday at 8 p.m., Friday and Saturday there are two shows at 7:30 and 10 p.m., Sunday, one show at 7:30 p.m. Starting Monday, October 17 th, 2005, Hilarities will feature the variety show "Toga" on Monday nights at 8:00. The Wednesday night show and Friday at 7:30 are designated non-smoking shows.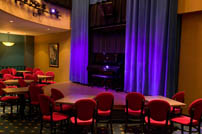 Pickwick & Frolic offers Dinner and a Show specials Thursday through Saturday that include a buffet dinner prepared by the Pickwick kitchen, the Frolic Cabaret show "Cabaret Rocks" and the Hilarities comedy show for a flat rate. Prices range from $34.95 to $41.95 per person depending on the day. The Dinner and a Show buffet can be arranged on other nights for groups of 20 or more. For business travelers, Pickwick and Frolic offers a wide array of meeting, catering and entertainment options.
Pickwick and Frolic is located at 2035 East 4 th Street in downtown Cleveland. For more information visit www.pickwickandfrolic.com or call (216) 241-7425.