story and photos by Jamie Rector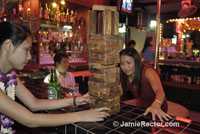 When the nights fill with rain, you can stay dry inside while whetting your whistle with a cool drink and some lively company. The nightlife in Bangkok has a bit of a wild and lusty history. As the visitors of the past were mostly American GI's and German or Arab sex tourists, the nightlife offered a wide array of scandalous choices. But as the tourist census has changed and more couples come for shopping and innocent-natured fun, the range of places available to spend an evening has grown. Still, even venues that appear innocuous, may have servers who will go home with you for a fee.
Beware of Sharks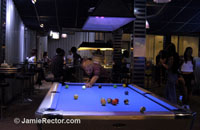 Billiards is particularly big in Thailand. One popular haven for this pastime is the Factory. The contemporary, artsy environment offers two full bars and about 6 pool tables. Neon lights make the balls glow as they spin across the felt tables. There are also coin-operated internet kiosks where you can check your email while waiting for your turn to play. For the freaky deaky, and the right price, you can take one of the serving girls with you for the night.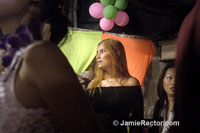 Brunswick is another popular night spot. This large pool hall with a field of felt tables has more tourists. It is also a restaurant, so you can order dinner between chalking your cue stick. They often have informal tournaments going on. Just put your name up on the chalkboard and wait for your turn in the game. When you enter a game as a new challenger, it is your responsibility to pay for the game. If you win, you get a new challenger; if you lose you go back onto the chalkboard.
Warning!! The Thai people play a lot of pool, women as well as men; and they're good at it. If you're playing for fun, great, but make sure you know what you're doing if you decide to start making bets.
One term you will likely hear, no matter where you end up, is Farang. You are a Farang, meaning tourist, or non-local. The locals will call you a Farang, but all in fun. They seem to quite like visitors and are generally helpful and welcoming.
Dancing the Night Away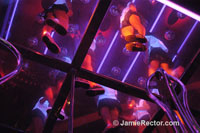 Soi Cowboy is a bar with a glass ceiling above ground level and a dance floor upstairs. Sitting at the bar below you get a voyeuristic view of the people dancing above you. Funky lighting makes everyone glow.
Khao San Road is a favorite with the backpacker community. It is quite touristy and bars are open until all hours of the night. You can bar hop to your heart's content. It's safe, but you'll want to watch out for pick pockets in this area. They know the tourists flock here so you could be a target. Keep your cash in a money belt tucked away safely under your clothes, and be aware of what is going on around you, and you can enjoy a safe and fun night out in Bangkok.
The Factory Bar
Sukhumvit Road (Thanon Sukhumvit) between Soi 5 and Soi 7 across from the Landmark Hotel
Brunswick Pool Bar & Restaurant
SNC Tower (Ground Floor)
33 Sukhumvit Soi 4, Klongtoey