story and photos by Kayte Deioma
NOTE: This article was written in 2006, before anyone in New Orleans had ever heard the term voluntourism. Some of the organizations mentioned no longer exist, but New Orleans is still rebuilding. The concepts also apply for volunteering in other areas affected by disasters. Rainy Day Traveler is NOT involved with placing volunteers in New Orleans. See the links under Making the Connection below.
***
If you have ever heard the term "voluntourism", you probably think of traveling to a distant country and paying a couple thousand dollars to help out on an archaeological dig or do environmental research. The word is taking on new meaning in New Orleans and other disaster-struck areas which provide great opportunities for individuals, families and groups to combine vacation travel and service, for the benefit of both the participants and the destination.
When I mention vacationing in post-Katrina New Orleans, most people think it would be too depressing to party it up in the French Quarter while surrounded by miles and miles of ghost town. However, when offered the opportunity to spend part of their time pitching in to help with the recovery, they can't wait to sign up.
What is Voluntourism?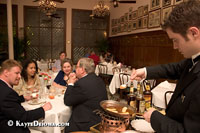 The primary difference between voluntourism and simply volunteering in post-Katrina New Orleans is that volunteers are usually housed and fed by their sponsoring organization in camps, churches or community centers. Voluntourists report for volunteer duty during the day, but put money back into the struggling economy by staying in hotels, eating at restaurants and enjoying local attractions. This not only helps to keep local businesses open, but also reduces the financial burden on relief organizations.
Pay Your Own Way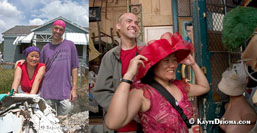 Fred Schenck and Makoto Ogura, both high school teachers from Evanston, Illinois, used their Spring break to volunteer gutting houses for ACORN (Association of Community Organizations for Reform Now). Rather than stay with other volunteers at one of the FEMA camps, the couple decided to stay at the Sleep Inn, just outside the French Quarter. "It's been a wonderful experience. We work 9 to 3, then shower and walk into the French Quarter. We have our stools reserved now at the Crescent City Brewhouse." says Schenck. They both find the combination of work and relaxation rewarding. "Every afternoon we look at each other and say 'This was a good idea,'" adds Ogura. "This is what we should be doing."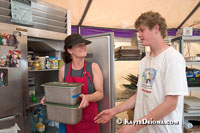 Lynn Vear came with her husband Dale Schultz and their fifteen-year-old son Carson to volunteer at Emergency Communities' "Made with Love Cafe" in St. Bernard Parish near New Orleans. The family stayed at Elysian Fields Bed & Breakfast in Fauberg Marigny, next to the French Quarter while volunteering every day for Emergency Communities. "We usually go away somewhere on spring break, but I didn't feel like we could indulge ourselves somewhere when there is so much need," says Vear, who works in the advertising department of Bon Appetite Magazine. "They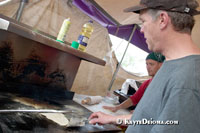 don't allow people under 18 in the camp and I'm not much of a camper" says Vear. "We would have spent the money anyway for a hotel if we had gone somewhere on vacation."
"It was hard to find somewhere to volunteer as a family," She adds, "I like to cook, so when we found Emergency Communities, it seemed like a good fit for all of us." The trio have rotated through different jobs at the makeshift café inside a geodesic dome tent including serving food, kitchen prep, clean up and staffing the "free store" where residents can pick up donated food, water, clothes, cleaning and house-gutting supplies.
What Kind of Skills Do You Need to Volunteer?
For the foreseeable future, New Orleans and other disaster areas along the Gulf Coast need every kind of skilled and unskilled help they can get.
Skilled Volunteers
Skills in immediate demand are:
people with construction skills (pouring cement, framers, carpentry)
electricians
sheet metal workers to repair fishing boats
medical personnel, especially if licensed in Louisiana
mental health professionals
screened child care workers and teachers
certified lifeguards
What Can Unskilled Volunteers Do?
With on-site training and supervision, unskilled volunteers can help with:
House gutting
Food preparation, serving, clean up, dishwashing for food service to volunteers and residents
Staffing distribution centers
Supervised work on construction projects
Bio-remediation gardening
Regular gardening, weeding, mowing lawns
Picking up debris
Distributing food and water for abandoned animals
Conducting needs assessment surveys
Assisting child care workers
Unaffiliated Volunteers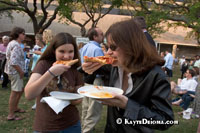 Until now, it has been difficult for individuals, families and small groups of friends, known in the disaster relief community as "unaffiliated volunteers," to find places to help, simply because the coordination hasn't been there. Organized groups have been able to volunteer through their churches or civic organizations, but for unaffiliated volunteers, it took a lot of research to track down organizations on the ground that needed help and would accept people who were not part of a group. Most of the traditional religious and non-profit groups also require a one or two week minimum time commitment that is not possible or desirable for everyone.
Who Needs Voluntourists?
So if most organizations want a week-long commitment, where can voluntourists help out who only have a few days, or even a few hours to contribute? There are organizations that can use voluntourists as part of the disaster clean up and rebuilding. There are also non-profit and government organizations that can use voluntourists in their day to day operations.
Disaster Clean Up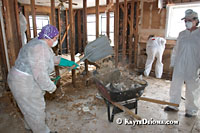 Before the great rebuilding can begin, the houses that are structurally sound need to be cleared of all remaining contents and gutted. Many different organizations are doing house gutting for low income home owners who don't have the insurance to cover the cost of hiring professionals. This is probably the greatest single use of unskilled volunteer time in the short term. Some of these services are free; others charge a fee to the home owner to cover the cost of outfitting volunteers in Tyvek suits, boots, rubber gloves and masks to protect them from mold and other hazardous materials. Some organizations require volunteers to bring their own protective gear or pay for it once they are on site. If you have mold or dust allergies or other breathing problems, this is not for you. If you are sensitive to heat, you do not want to be doing this work in the summer.
Grassroots outfits that sprang up after Hurricane Katrina are more flexible than most of the established disaster relief efforts as far as time commitment, although all organizations who do this kind of work would rather have you for a week, especially if they are providing your protective gear. If you can bring or pay for your own gear, Common Ground Relief, and Relief Spark can use people who only have a few days. Each organization does its own variation of orientation and safety training. Be sure to ask if there will be a site supervisor at each house gutting location.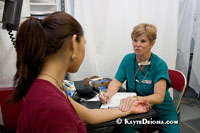 Common Ground Relief, with the motto "Solidarity, Not Charity," promotes the involvement of local residents working with volunteers in the clean up and rebuilding effort. They offer a more diverse selection of volunteer possibilities including a health clinic, women's shelter, temporary housing, kids and community project, environmental projects and advocacy efforts.
Emergency Communities set up a temporary kitchen, the Made with Love Cafe, and community center in St. Bernard Parish, about 10 minutes from the French Quarter. Run by volunteers camped out at the site with solar showers and porta-potties, the Cafe fed thousands of relief workers and residents and became a meeting place for residents to get out and be with their neighbors, rather than sitting at home in their FEMA trailers. The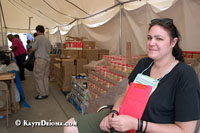 Made with Love Café served its last meal May 31st, but the team is relocating to an elementary school being set up to house volunteers in Violet, about six miles away. Emergency Communities will be running the kitchen, which will serve 1500 volunteers plus local residents working on their homes. The new location is still in St. Bernard Parish, about a 20-minute drive from the French Quarter. All of the 26,900 homes in St. Bernard Parish were left uninhabitable after Hurricane Katrina. Five out of six homeowners had no flood insurance. (Update February 2007 – Emergency Communities has re-opened in New Orleans in the 9th Ward.)
Becky Zahari started the Katrina Krewe with 15 volunteers who were tired of looking at all the debris strewn along the city's streets. The group picked up trash along major thoroughfares one neighborhood at a time, attracting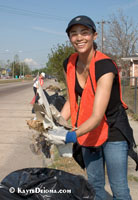 hundreds of volunteers from all over the world to their half-day clean ups. On my visit in April 2006, actress Paula Patton from Los Angeles, was working up a sweat picking up trash on her day off from shooting the film Déjŕ Vu with Denzel Washington. Other volunteers helping out that Wednesday morning were individuals, families and church groups from Boston, Jackson, Wyoming, Grand Rapids, Michigan, and from cities around New Orleans. "It makes me proud to be part of a country whose citizens care about other citizens of this country," says Richard Druant, a retired New Orleans police officer, whose home in nearby Kenner had about $20,000 in wind and rain damage. "I've been coming every Wednesday for about 10 weeks, and have worked along side people from all over," he says. "People don't come here for recognition. They come because they care."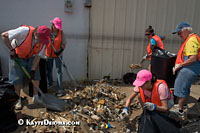 Through the spring, the Katrina Krewe went out twice a week on Wednesday and Saturday mornings, but they are cutting back to once a month through the heat of the summer and reevaluating after that. Other church and community groups will be picking up some of the slack, organizing their own neighborhood clean ups. Both the monthly Katrina Krewe clean ups and the efforts organized by partner organizations are posted on the Katrina Krewe's website, www.cleanNO.org.
Rebuilding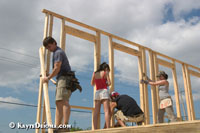 Habitat for Humanity is not the only organization working on the reconstruction of New Orleans, but it is the easiest one for voluntourists to access. Habitat has already begun construction on the Musicians' Village in New Orleans' Upper 9th Ward. The first phase of the project includes 70 new homes. Habitat's "build by numbers" model allows unskilled volunteers to assemble houses under the watchful eye of site supervisors.
Ongoing Operations
In areas that were less impacted by the flood, non-profit arts and social service organizations have been able to get back into their buildings and start putting things to rights, but they remain extremely short staffed. These organizations can benefit from even a few hours of assistance in any number of capacities. If there is an organization that you volunteer for in your own community, chances are their counterpart in New Orleans could use your help.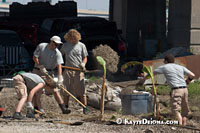 Gardening. For people who love to garden, or anyone who doesn't mind pulling a few weeds, the Longue Vue House and Gardens, the Audubon Zoo and other Audubon Nature Institute properties and many other City and State Parks in the area need help restoring and maintaining their gardens.
Animal Lovers. Many animal lovers call the Louisiana SPCA in New Orleans wanting to help with the animals. Unfortunately, without attending the SPCA's training, which occurs once a month, volunteers cannot work with the shelter animals. The SPCA does have a variety of menial tasks they can always use help with for a couple hours a day, like unfolding newspapers to put in cages. Animal Rescue New Orleans ( ARNO) is in need of volunteers with cars to help put out food and water for all the abandoned cats in neighborhoods that have not been repopulated.
The Sisters of the Holy Cross can use help rehabbing St. Mary's Academy, a predominantly Black Catholic school in Gentilly. According to Sister Greta Jupiter, they can use help with clean-up and ground maintenance as well as sorting, packing and moving books and supplies.
The City needs people to help answer phones at City Hall and other government offices. The City Parks and Parkways department can use volunteers to clean up and maintain green space "We could also use certified lifeguards to volunteer their time at City pools this summer." says City staffer Clarice Kirkland.
Making the Connection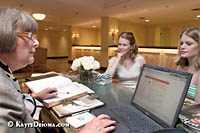 There are plenty of opportunities to serve and it is getting easier to find them. Volunteers of America, Greater New Orleans Chapter (VOAGNO) is taking on the responsibility of coordinating volunteer placement to appropriate agencies. The bulk of this will be done through a volunteer needs database http://volunteerlouisiana.gov/volunteering/.  Other volunteer databases that include New Orleans opportunities are www.volunteermatch.org or www.idealist.org. You can also reach the organizations listed in this article directly through the Contact List.
The website volunteer forms are often designed for local long-term volunteers. This does not mean that the organization does not also have a need for shot-term volunteers and voluntourists. Just be clear about how much time you have available to volunteer. If you are contacting organizations directly, it may take several tries to find an organization that can meet your time constraints the week you will be in town.
Volunteer Groups
If you are part or a religious congregation or civic organization and have a group of 10 or more people who would like to volunteer, you can contact your national organization for volunteer opportunities or contact the New Orleans Convention and Visitors Bureau for assistance.
Tips for Voluntourists
Be patient. Nine months after Hurricanes Katrina and Rita the basic infrastructure in New Orleans is still a mess. Many city and non-profit offices are in temporary spaces with limited phone lines and spotty internet service. They are also very short staffed, so you may not receive an immediate response to an email or phone message. Allow plenty of time for communication.
Plan ahead. It may be possible to find a way to help after you arrive in New Orleans, but if you start researching volunteer opportunities as soon as you make your travel plans, you have a better chance of finding something that fits your schedule and will allow you to fit in your tourism goals as well.
Be flexible. "There are a lot of expectations that people have when they come down here," says Dave Keigan, who spent his 4 month winter break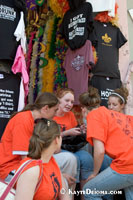 from driving a tour bus volunteering for Habitat in New Orleans. "They don't want to gut a white person's house, only a poor black person's house, or they only want to work in New Orleans, not in Biloxi." You can choose which organization you want to volunteer for and to some extent, what project area you want to work in (e.g. house gutting versus kitchen), but then you should be willing to do whatever needs to be done.
"I don't want people to be disappointed," says Ginger Morvant, volunteer coordinator at the Louisiana SPCA. "People show up from out of town and want to work with the animals and they are disappointed when they can't. They are also disappointed that we don't have time to give them a tour of the shelter. If we did, we would never get any work done. We can use people to help unfold newspapers and hand out clipboards to potential pet adoption applicants, but it's not glamorous."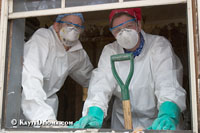 Be safe. Every organization and every different function has specific safety procedures, whether it's not to sneeze on the food if you're serving in a food line or what kind of mask to wear gutting houses. Most site supervisors are well versed in safety issues, but don't count on it. If your own common sense and advance planning research tells you to keep a mask on at all times when gutting houses, don't listen to someone telling you that the dry dust won't hurt you.
Be responsible for your own well-being. Especially during the summer months, know your heat tolerance and stay well hydrated. Water and snacks are usually available, but it helps to have a granola bar or some trail mix on hand if it ends up being longer between meals than is comfortable for you and it never hurts to have extra water along.
Summer is also hurricane season, so volunteers should have their own evacuation plan. "We are preparing to evacuate early and often," says Cathie Peterman, volunteer coordinator for Volunteers of America. "We're recommending travel insurance and car rental for people coming during hurricane season."
Helping From Home
For those who can't make it to New Orleans to volunteer, but want to do something to help, most of the organizations listed here can provide the tools to do fundraising in your own area to support disaster relief efforts. You can also support organizations that provide disaster relief nationally and worldwide through the National Volunteer Organizations Active in Disasters and the American Red Cross.