story and photos by Kayte Deioma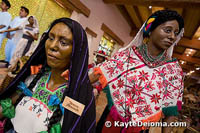 The Casa de Arte Popular Mexicano or Mexican Folk Art Shop and Museum, is an enchanting excursion into the diversity of Mexican folk art traditions. Located in an upstairs storefront in the Embarcadero shopping center, it seems more shop than museum at first glance, especially because you enter through the gift shop.
Admission includes the use of an audio cassette tour, available in Spanish, English and French, that is absolutely critical for understanding what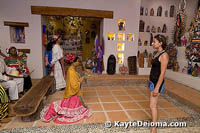 you're seeing. Every inch of available surface and wall space is used for display, with no room left for interpretive panels. Although the density gives it a bit of a cluttered feel, the exhibits are artfully arranged by theme.
The museum's curators scoured the country to find the best examples of each of Mexico's indigenous folk art traditions, at times commissioning pieces from the top artists in a particular medium. So the artifacts are a combination of historic pieces and new works.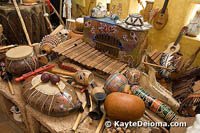 In the first gallery, musical instruments like pre-Hispanic gourd rattles, rain sticks, primitive xylophones and drums of logs and gourds are arranged together on a platform of large adobe bricks. Hand-crafted stringed instruments from tortoise-shell, gourd and armadillo skin guitars to inlaid, painted and beaded instruments adorn the back wall.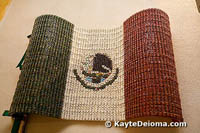 The eagle, serpent and cactus from the Mexican flag are painted on ceramic plates and pots in the styles of different regions, carved from wood, beaded in bright patterns and laid out in mosaics in the political and patriotic exhibit.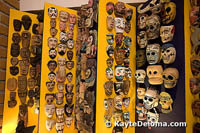 Almost 300 masks cover the opposite wall from floor to ceiling – smooth or hairy animal masks, carved or paper Mache devils and demons, blond, blue-eyed Mardi Gras giants and theatrical characters, and calavera skull masks for Day of the Dead. Each genre shows representations from different parts of Mexico.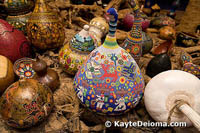 The tour continues into a larger gallery where you're greeted by a mountain of gourd art piled atop an incredible network of tree roots. The versatile squash becomes bowls, urns, canteens, rattles and wind chimes. Some have simple line art, more are elaborately painted in varying styles, others are intricately beaded with tiny colored glass beads. Among the gourds and roots, wooden or woven snakes, alligators and turtles cavort.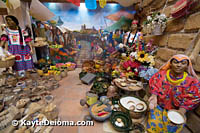 A corner of a marketplace has been recreated to the right, with life-size figures of women in traditional garb selling clay pots, rice, eggs, dried beans, fruits, vegetables and other miscellaneous goods. A painted mural backdrop continues the scene into the distance.
To the left, we find a typical Purépecha house from Michoacan, where a father uses an olotera made of dried corn husks to rub the kernels off an ear of corn while his son looks on and his wife weaves on a suspended loom.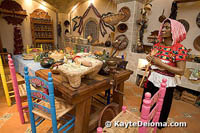 Beyond the Purépecha home is a Puebla kitchen with counters and walls detailed with ornamental Talavera tiles and pottery from the region. The arched ceiling and alcoves reflect the Moorish influence Spanish settlers brought to the area. A stove, sink and limestone water filter are built into the counter. A rack of molinillos, carved wooden whisks used for frothing chocolate milk, hangs on a wall. Heart and bird-shaped stone mortar and pestle sets called molcajetes and a stone metate for grinding corn are on display. Beaten copper pots find homes on the stove, wall and suspended from the ceiling. The dinner table, with multicolored, hand-painted chairs, is laden with representations of typical foods and tableware.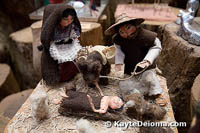 A nativity exhibit uses tree stumps as pedestals for dozens of crčches in different artistic styles from around Mexico, from tiny sets you could hold in the palm of your hand to three-foot ceramic figures. The holy family is represented as European, Mexican or Indiginous people, from monochrome to multihued, in materials including clay, tin, wood, sea shells, straw, papier-Mâché, fabric, beads and wire.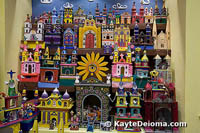 Other religious symbols include crucifixes made of everything from roots and branches to bottle caps, brightly colored or naturally toned churches, angels and Virgin of Guadalupe figures. A recreated chapel is populated with a life-size congregation of fiberglass citizens modeled from real people representative of the various indigenous groups in Mexico. Each is clothed in appropriate regional attire.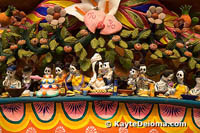 On the altar, Jesus is suspended within the wood frame outline of a cross, backed by dozens of tin luminarias. The cross is flanked on either side by elaborate hand-painted clay "Trees of Life" that each consist of hundreds of individual characters and details telling a particular life story. One incredible Tree of Life by Tiburcio Soteno tells the life story of a skeleton character with all his skeletal family and friends, from birth through marriage and death. Another is filled with mermaids surrounded by hundreds of vibrantly colored fish and other sea creatures.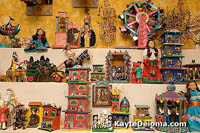 A final side gallery is devoted to toys. Dolls and clay figures, mechanical toys and games, doll houses and miniature musical instruments, toy trucks, cars and buses piled high with produce on top, are all a delight to the eye. On one side, a girl has lined up all her dolls on toy chairs to watch her brother put on a puppet show.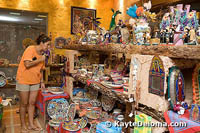 The audio tour is 45 minutes if you listen to it straight through, but I found myself stopping the tape often to spend more time admiring the examples of different styles of craftsmanship in each exhibit. Once you've finished the tour, the gift shop is choc full of the work of some of the best folk artists from around the country. It's worth a little extra time to explore, even if you are not buying, because most things are really one of a kind art works (even if there are variations) rather than replicas of pieces in the museum.
La Casa del Arte Popular Mexicano (Mexican Folk Art Museum)
Boulevard Kukulcán Km. 4, El Embarcadero
Zona Hotelera, Cancún
Phone: (998) 849 43 32 or (998) 849 55 83
www.museoartepopularmexicano.org