story and photos by Kayte Deioma
If you're a regular reader of RainyDayTraveler.com, you might have noticed that I lean heavily toward science related museums when I am looking to get out of the rain, with or without kids. It is not because I was ever particularly good at science. It is because, like most kids, I prefer a museum where I am not only allowed, but encouraged to touch stuff. I may or may not get the underlying concept being illustrated, but I like to turn the knobs, push the buttons, move the mouse and generally play with stuff to see what it will do. My nieces and nephew are with me on this one. If it has a button to push, it's good. If something actually happens when you push the button, even better. If we understand what happens when we push the buttons, we're brilliant.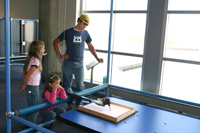 The Great Lakes Science Center lets you lift a one ton car, drive a blimp, generate electricity, operate a train, be a fashion designer, play music, fly a hang glider over the grand canyon and so much more.
I went to the Great Lakes Science Center with my sister Ellie and her three children Derick, 14, Becca, 7 and Sarah, 5. I called them a month after our visit to see what really stood out in their memory.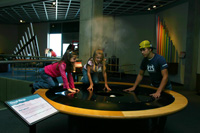 Derick, whose first comment to me when I asked how he liked high school was "I don't like science. We're studying atoms." was fascinated with the tornado exhibit, where he could create a tornado within a clear eight-foot-tall tube. The big black circle that made cloud formations that looked like smoke signals was also high on his list. "The noise volume thingamajig where you could test the decibels of noise…how many decibels your voice was…." was also interesting.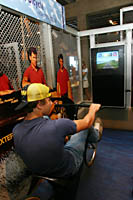 He spent a lot of time on the various stationary bikes. Two different models measured speed, one generated electricity. The thing that impressed him the most was that the stationary bike used to generate electricity had high-end state-of-the-art Profile Racing cranks. This is a kid who regularly takes his bike apart and puts it back together. He knows his cranks.
Derick had been to the Science Center before, but the IMAX movie, the Human Body, was new and made quite an impression. When I asked if there was anything in particular that he remembered, he commented "The giant zit did NOT have to be in the movie. That really grossed me out!" He did appreciate the lesson on reflexes though, since he could see how it related to his BMX bike riding.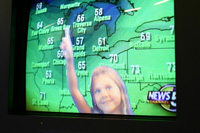 Becca, seven, was partial to the outdoor playhouse. "It had the steering wheel of a boat and different colored windows and fountains. And I liked looking out of the telescope and seeing a big boat in the water." The outdoor balcony looks out on Lake Erie and across to the Rock & Roll Hall of Fame.
"I liked being on the TV. I was on the news!" She giggled at the memory of herself as weather girl. She also enjoyed watching her big brother generate enough electricity on the stationary bike to light up the board and ring a bell. Becca has an excellent memory and remembered that she was able to balance on a skateboard-shaped balancing board for 53 seconds.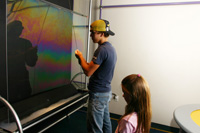 "I liked the part where the ball flew up in the air and my hair too…I looked like an iguana," she recalled of the Bernoulli Blower. "And do you remember the giant wall of bubble? Derick made it almost to the top before it broke. The light on the bubble made rainbow colors." "I liked making pictures on the wall with our shadows when the flash went off," she continued. "And I liked when Mom and Derick rode the bikes and Mom won."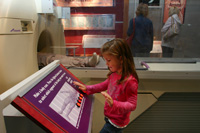 Five-year-old Sarah called it the Body Museum. She was as impressed as Derick with the IMAX Human Body film. Her Aunt Carol is expecting a baby and the footage of the baby being born was terribly fascinating and relevant for her, providing many days worth of questions for her mother and aunts. Outside of the IMAX Theater, Sarah mastered the art of pushing the red buttons that sent a body in and out (and in and out and in and out) of an MRI machine. She also excelled at the concept of momentum on the outdoor solo merry-go-round and enjoyed playing in the Polymer Funhouse.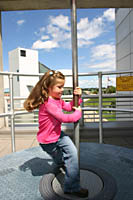 From their Mom's perspective, the best thing about the Science Center was seeing the kids interested in and entertained by the exhibits and activities. She had half-expected her son to be a typically disinterested teenager and was amazed that even he was thoroughly engaged by the exhibits.
The Great Lakes Science Center is located at 601 Erieside Avenue, next to the Rock & Roll Hall of Fame at Cleveland's North coast Harbor. Hours are 9:30 a.m. to 5:30 p.m. daily (closed Thanksgiving Day and Christmas Day). For ticket information visit www.GreatScience.com or call (216) 694-2000. Advance tickets are available online or by calling (866) 866-4506.