story and photos by Jamie Rector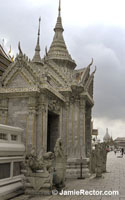 Bangkok, whose full name translates as City of Angeles, Abode of the Emerald Buddah, is the home of approximately 28,000 temples, called wats in Thai. Exploring the wats is a great way to spend some time if you're on your own. You can wander for hours, or even days exploring and meditating in these fascinating, spiritual places.
The structures tend to be quite ornate with intricate and delicate artistry covering every millimeter. They are decorated inside and out with symbols and characters that all tell stories of the history of the land, culture and religion.
Inside, Buddhas in many sizes welcome you. Every wat has a shrine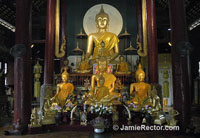 adorned with candles and incense. Many invite you to participate. Some ask for a donation.
Most temples are still active, with monks living and practicing within them. Keep in mind that women are not allowed to touch a monk. They will speak with you, and I certainly recommend this, but you are not to touch them.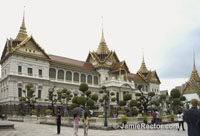 The Grand Palace complex is one of the most extravagant wats in Bangkok. You can take a tour of the gardens as well as inside the palace. There are many rooms and parts of the palace grounds that will share the history of the royal and religious adventures of Bangkok and Thailand.
Wat Phra Kaeo, the Temple of the Emerald Buddha, is another exceptional wat within the Grand Palace compound. Constructed in 1782, it was the first permanent structure built in Bangkok. It's golden chedis, are a familiar icon of Bangkok. The temple houses a 30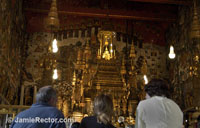 inch high, 18 inch wide Buddha carved of green jasper, the most revered Buddha image in Thailand. It was apparently found in Chiang Rai in the early 1400′s. It was moved several times in its lifetime before landing in Bangkok in 1778. The King himself changes the Buddha's gilded garments three times a year to mark the change in the seasons: summer, rainy and winter.
There are endless large and small wats around every corner in Bangkok. Feel free to visit the smaller, more localized wats as well as the grander examples. If they are not open to you, someone will let you know. The smaller ones can give you a better idea of local life as tourists are less likely to wander in there.
Keep in mind, you must dress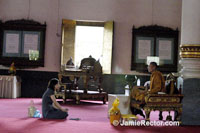 appropriately; wats are religious places and respect for their traditions is expected. No shorts or short skirts. Women should have their shoulders covered when inside temples or holy places. Bring a light shawl that will fit easily in a bag and allow you to be appropriate instantly. In most temples you are required to take your shoes off, so watch out for your holey socks.
Alone or with family or friends, don't miss out on the opportunity to visit several of these amazing shrines, large or small. You'll be glad you did.
Wat Phra Kaeo
Temple of the Emerald Buddha
Na Phralan Road , Phra Nakhon District, Bangkok, THAILAND
Phone: 222-8181