story and photos by Kayte Deioma
Cleveland 's University Circle is choc full of cultural icons like the Cleveland Museum of Art, Museum of Natural History and Botanical Gardens in Wade Park and educational institutions like Case Western Reserve, the Cleveland Institute of Music and the Cleveland Institute of Art around its perimeter. But University Circle's best kept secret is the Crawford Auto-Aviation Museum at the Western Reserve Historical Society.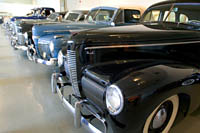 The thing that makes a museum or historical site stand out even more than the artifacts collected there are the stories that go with them and the way they are presented. Allan Unrein, Director of the Crawford Auto-Aviation Museum is a great storyteller and a man who clearly loves his work. It shows in the brief written histories identifying each vehicle in the museum's showrooms, but having a chance to hear the stories from Unrein or the docents he trains makes a visit to the Crawford more than just a great car show.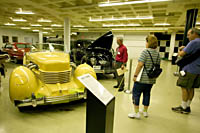 A lot of women think of car museums as a "guy thing," all about model years and engines. At the Crawford, each car on display has a personality and personal history that makes it more than the sum of its parts. An engineer by training and many years of experience, Unrein can also tell you about the inner workings of each of the nearly 200 cars and planes in the collection. "Twenty-eight of our cars are 100 years old or older and we have 80% of our cars in working condition," he says with pride.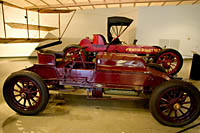 The collection leans heavily toward cars built in Cleveland between 1898 and 1931, when Cleveland was the automotive center of the nation, with 80 different car brands being built here. Among these is the first Winton ever built and two other Winton race cars. "Henry Ford applied for a job at Winton," says Unrein, "but Alexander Winton says nah, you just don't have it…so much for foresight."
There are plenty of Fords in the collection as well, including several Model Ts, the car that put America on the road. Fifteen million of them were made between 1908 and 1928. "I can teach you everything you need to know to drive a Model T and fix it in about an hour" claims Unrein, and proceeds with some basic instruction in crank starting the car. The Crawford has one of the earliest prototypes, serial number 258 out of 15 million.
When I visited, Unrein was putting together a new exhibit called Millionaire's Row. "I researched what everybody on the street drove in 1910. Eight drove steam cars, 145 drove gasoline cars and 137 had electric cars, mostly women," he explains. "These were women's urban social cars. You drive them from the back seat with a tiller, so women were backseat drivers. But you wanted to bring your lady friends with you to socialize with you. They sat facing backwards so they could talk to you while you were driving."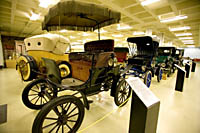 "This one is an early electric with a surrey." He shows us a 1904 Baker. "This is an all original car, and the lady that bought it is a Baker. Baker was a car manufacturer over by where Voss is now… The lady liked it so much that she drove it back to the factory to tell Mr. Baker what a wonderful car he built. The vice president of the company came out of the building to acknowledge her and talk to her…well apparently he must have liked her, because they got married six months later."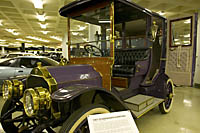 Mrs. Palmer's 1907 Studebaker-Garford was built in Elyria, Ohio. The wife of the owner of Chicago's Palmer House Hotel chose the heliotrope color and plush furnishings herself and liked to dress to match her car. The steering wheel is on the right, as was the custom prior to 1908. "Henry Ford was a non-conformist and he liked the left," Unrein explains. "He made 15 million with the steering on the left, so by 1915 everybody moved to the other side."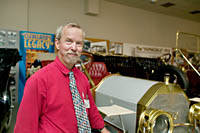 Leading the way to the back of the showroom, Unrein indicated a polished gray and beige open-top roadster with a red interior and brass fixtures. "This is a Simplex," he says. "This is my favorite car to drive. It's the rarest brass era pre-1915 car on the road. There are only two of these in existence and it was the fastest car that you could drive on the road in 1909. Last year at the Cleveland Air Show," he added, "I did a simulated race against a biplane with it and it clocked at 91 miles an hour and I still had throttle left."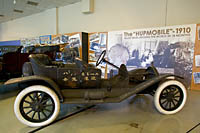 The Crawford has many rare finds and colorful car stories, but the most unusual is the 1911 "Hupmobile." In 1910, two employees from the Hupp factory in Detroit and a Detroit Free Press Reporter took off from the factory in this ordinary car and returned 18 months, 48,600 miles and 26 countries later from a trip around a world with no road maps, gas stations or motels. They had to carry everything they needed with them. The well-worn vehicle has "world touring" painted on its sides in Chinese and Japanese characters. The factory had the car on display until 1946 and then donated it to the museum. "This summer, after minimal work, we got it running again after 92 years," says Unrein, beaming. "I'll bet anybody that I can give it a couple of cranks and it starts right up and runs."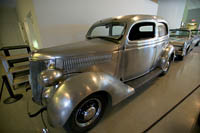 The Crawford has a striking set of three stainless steel cars, a 1936 Ford Deluxe, a 1960 Ford Thunderbird and a 1966 Lincoln Continental. "We've got the only matched set that's on exhibit," says Unrein. "The stainless steal cars were guaranteed not to rust, bust or collect dust. Those were built specifically by Ford for their supplier Allegheny Ludlum in Pennsylvania who supplied their stainless steel. Those were their salesmen's cars. They built them at the end of the year because stainless really messes the dies up for the sheet metal, so they could only make a few of them."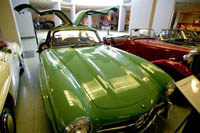 Some other more modern items in the collection include a 1946 Volkswagen – one of only two brought into the country that year; a 1949 Bentley – one of only five built that year with left hand steering; a 1956 Mercedes-Benz SL300 with "gull wing" lift-up doors; Kenny King's 1958 Chrysler 300 – "which will outrun anything they have today"; a 1966 American Motors AMX prototype; and the first DeLorean ever produced (1981) – serial number 1. The Museum also recently acquired a 50s Ford Anglia similar to the one featured in the Harry Potter movies. Only a portion of the collection will fit in the two floors of display area. The rest is in a preservation facility at 30 th Street and Chester, which can be visited only by special appointment.
Unrein believes in getting the cars out where people can see them. A couple years ago, he and his volunteers took seven of the 1920s models on a 43 city tour of Ohio. Photos of the trip are on display at the back of the museum. The cars make regular visits to local nursing homes and schools as well at to national car shows.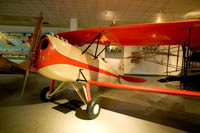 The aviation portion of the collection is much smaller. Only four of the Crawford's dozen or so aircraft are on display in the museum, including a replica of the Wright brothers' original glider; a 1929 Great Lakes 2T-1A Sport Trainer; a 1910 Curtiss Model E Bumblebee "hydroaeroplane"; and a 1944 North American P-51K-NT-10 Mustang Second Fiddle. Most of the others are currently undergoing restoration.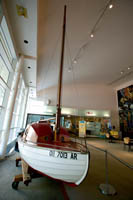 As its one piece of aquatics history, the Museum has the original "Tinkerbelle" on display. Robert Manry hand-crafted the small sailboat and in 1965 successfully sailed it from Falmouth, Massachusetts to Falmouth, England. The original craft in which he spent 78 days and nights is on view upstairs with some other related memorabilia. A replica is displayed downstairs where children can take a closer look.
Frederick C. Crawford, president of Thompson Products (which became the T in TRW in 1958), started rescuing old cars from potential destruction in the late 1930s. In 1943, the collection went on exhibit as the Thompson Products Auto Album in a former Cadillac showroom at East 30 th and Chestnut. In the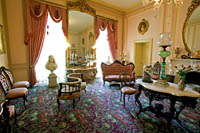 early 1960s, Crawford arranged to donate the collection to the Western Reserve Historical Society (WRHS). A new building was added at their Cleveland headquarters to house the new Crawford Auto-Aviation Museum, a new Archives Library and Gift Shop. The Library's Automotive Marque Files include pamphlets, user's manuals and schematics for many of the cars in the collection and others.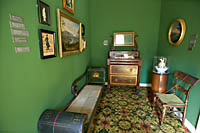 The WRHS Library is the largest archive of information and artifacts on Northeast Ohio history and includes extensive genealogical information. Adjacent to the Crawford Museum, the WRHS operates the Hay House, a mansion built in 1911, and the Chisolm Halle Costume Wing with rotating special exhibits.
Other WRHS properties include Hale Farm and Village (Civil War Era living history museum) in Bath, Ohio; the James A. Garfield National Historic Site in Mentor; Shandy Hall (1815 home) in Geneva and Loghurst (1806 log dwelling) in Canfield.
Museum hours are Monday through Saturday 10 a.m. to 5 p.m. and Sunday, noon to 5 p.m. For more information on the Crawford Auto-Aviation Museum and the Western Reserve Historical Society, call (216) 721-5722 or visit their web site at www.wrhs.org, which includes catalogues of their collections and unique online exhibits.