story and photos by Kayte Deioma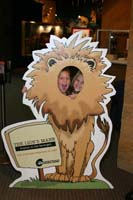 As I mentioned in the intro to Rainy Day Cleveland, my 14-year-old nephew opted out of a return visit to the Cleveland Natural History Museum, having visited several times on school field trips. Rebecca, on the other hand, had been on one school visit in first grade and couldn't wait to go back and show her little sister around.
Personally, I suffer easily from museum fatigue, so when planning our visit to the Cleveland Museum of Natural History, I asked: what does this Natural History Museum have that I wouldn't have already seen at the Natural History Museum in Los Angeles, Washington DC or London? That way I can make sure I see those exhibits while my brain is still able to absorb them.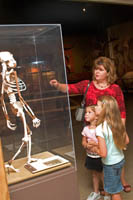 The number one "must see" item on my list for the CMNH was the controversial "Lucy" replica. The original skeletal remains were discovered in Ethiopia in 1974 by a team including the museum's anthropology curator at that time, Donald Johansen. This earliest and most complete skeleton of a human ancestor, described by National Geographic Magazine as "the most widely known and thoroughly studied fossil find of the 20 th century," was studied in Cleveland for six years before being returned to Ethiopia where it has been in storage since 1980. Cleveland Museum of Natural History has one of two reconstructions that is assembled in the upright position. Even my five and seven-year-old nieces had heard of the 3.2 million-year-old "Lucy", the closest relative so far to the evolutionary "missing link."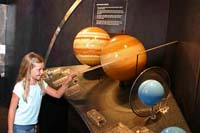 Also high on my list was "Happy," the giant skeleton of a Haplocanthosaurus delphsi, the only assembled example of this 70-foot-long dinosaur in the world. My sister makes jewelry, so the gem exhibit was tops for her. The girls were happy to look at everything, but Becca had a hidden agenda that we didn't find out about until we were heading out to lunch.
We started our visit with a quick walk through a tunnel into the Reinberger Hall of Astronomy, where planet models were at the right level for little hands to explore. Becca declared a preference for Jupiter as her favorite planet, but, like so many others, I am seduced by the rings of Saturn.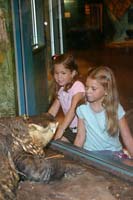 We backtracked out into the lobby to observe the motion of the Foucault Pendulum and took a quick photo of a two-headed lion before heading into the Sears Hall of Human Ecology.
Glass enclosed display cases filled with stuffed wildlife are topped by life-size natural habitats populated with two-legged and four-legged creatures looming over our heads. The girls were too busy at first coming face to face with an American Alligator at almost eye level to look up and notice the whole other world above.
In the Kirtland Hall of Prehistoric Life we found that our 150 million-year-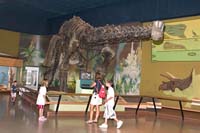 old friend "Happy," the specimen by which all other Haplocanthosauruses delphsis are measured, was keeping company with his 160-million-year-old meat-eating cousin Allosaurus. Nearby stood, Smilodon, a saber-toothed "tiger" from the La Brea Tar Pits in Los Angeles (my favorite bone collection), a Mammoth and the Johnstown Mastodon from Ohio.
I was dragged over to where hundreds of millions of years' worth of fossils were within perfect reach of little hands before I had a chance to track down Lucy. Then we headed into the Wade Gallery of Gems and Jewels, where my sister and her daughters discussed the wonderful things she could create with all those pretty stones. The striking collection of egg-shaped stones confounded Sarah, who was convinced they were real eggs from some exotic birds.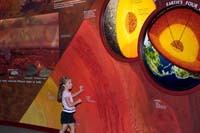 In the Reinberger Hall of Earth and Planetary Exploration, Sarah entertained herself by running her fingers over the texture of the Molten Earth wall and trying to climb the ledge to touch the giant textured globe while Becca tried her hand at making a rock on one of the interactive computer displays. Then we visited the Earthquake Zone, where Sarah had so much fun being shaken that she wanted to do it again and again. We convinced her that it was time for lunch.
Becca however had other ideas. "We didn't see the dome. I want to see the dome." Which dome? We had seen a dome of stars in the Hall of Astronomy. "No, the movie in the dome about the stars." I was pretty sure we had passed the entrance to the Planetarium, but it had been closed. "That's the best part!" Becca insisted. "I want to show Sarah the stars." We asked at the front desk and determined that there would be a presentation in the Planetarium in 45 minutes, so we bought our tickets and headed for lunch."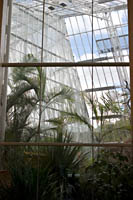 Friends had recommended that we pass on Steggie's Café in the Museum of Natural History in favor of the highly-rated cafe in the Museum of Art across the park. We just happened to be visiting on a Monday and the Art Museum was closed, so we decided to try out the café next door at the Botanical Garden instead. The kids were quite content with their grilled cheese and chips form the children's menu. My Cobb salad was fresh and tasty and Ellie enjoyed her bowl of chili, so we were all happy with our choice.
We rushed back just in time to sneak into the dark Planetarium before the doors closed and settled in for our trip around the stars, constellations and planets. I've seen enough Planetarium shows that I usually skip the Planetarium unless there's an opportunity for real sky viewing, but I was plenty entertained just watching the girls enthralled faces as they looked up at the star show.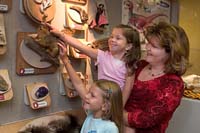 After the Planetarium show, we headed downstairs to the Smead Discovery Center for some touchy-feely fun. In addition to lots of furs, skins, bones and fossils to touch, there were dozens of toy dinosaurs, puzzles, and books and live lizards and butterflies to admire. Becca settled in for a while to examine a stack of slides with seeds, bugs and other tiny things under a microscope. Sarah flitted like a butterfly herself from activity to activity, always tempted away by the next possibility.
We lured them away from the Discovery Center with 
the promise of live animals to visit in the outdoor Wildlife Center & Woods Garden. On our way out to the Wildlife Center through the Hall of Prehistoric Life, we finally came across Lucy and other representatives of human evolution. Lucy looked to be about as tall as Sarah. The bits of her that look like bone are resin casts from the original skeletal remains, filled in with plaster to complete the remaining skeleton. The original bones have never been displayed publicly.
Once outside, climbing on the "Old Grizzly" bear sculpture by William M. McVey held as much appeal as finding the live animals.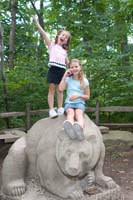 The bald eagle, bob cats and deer were all worth a few moments of observation, but it was the river otters playing "bumper butt" in their pond that won the day.
When I checked in with the girls a month after our visit to see what made the biggest impression. Sarah remembered the two-headed lion that I had forgotten about. They both agreed that the star movie in the Planetarium was the best. I asked five-year-old Sarah what she remembered about the stars and planets. "I remember the North Star," she said. "You follow it home."
For hours, prices and special exhibits at the Cleveland Museum of Natural History, visitwww.cmnh.org or call ( 216) 231-4600 or toll free (800) 317-9155.