A Shot in the Rain: New York City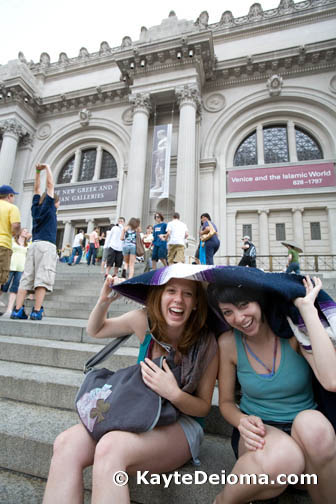 Anne LaTarte and Stephanie Gunther shelter themselves from a sudden shower on the steps of the Metropolitan Museum of Art, New York, NY.  Photo by Kayte Deioma
A Rainy Day in ….New York City
My nieces, Becca (9) and Sarah (7), wanted to visit American Girl Place in New York, so being the accommodating aunt that I am, I organized a trip to take them to the big city. Their mother, my sister Ellie, and their big brother Derick (16), also came along, so we tried to fit in activities that would appeal to all ages.
New York City is the number one most visited city in the United States. Some of its most famous landmarks, like the Statue of Liberty, Empire State Building and Central Park are great activities for a clear day. However, if the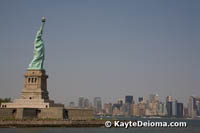 temperatures are above freezing, you could encounter a rain at any time of the year, and escaping the winter cold and summer heat, are equally good reasons for planning some indoor activities.
There are certainly plenty of options for staying out of the weather, from world class museums and monuments to amazing shopping, scintillating nightlife and, of course, the most famous live theatre district in the world.
To develop your contingency plan to escape indoors in New York, come along with us on a virtual visit to the Metropolitan Museum of Art, the NBC Studio Tour, Madame Tussauds Wax Museum, nights out on and off Broadway, and of course, American Girl Place.
NYC Features:
A Taste of Art: A Bite-Size Visit to the Met
For more rainy day New York alternatives, check out the New York Rainy Day Links page.