Story and photos by Kayte Deioma
Ask most Reno parents what to do with children on a rainy day and you'll likely hear the vote split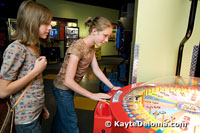 between staying home, going to the mall or maybe seeing a movie. If you happen to be staying at one of Reno's kid-friendly hotels, you have a few more options.
Most of the casinos have some kind of arcade for kids, but the Grand Sierra Resort goes above and beyond to provide family entertainment.
The outdoor kart tracks and aerial adventures at the Ultimate Rush Speed & Thrill Park at the Grand Sierra are great for sunny-day fun, but not so hot in the rain or snow.
However inside, on arcade level, they have Fun Quest, one of the biggest fun zones in town, with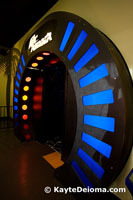 over 125 games. In addition to standards like Dance Dance Revolution and shooting galleries, they have redemption games that are replicas of the casino games, where kids win tickets for prizes instead of cash. It doesn't have much in the way of décor, but the kids don't seem to mind.
Later in the afternoon, if you want to get more physical, you can climb the rock wall, hit a few rounds on the 9-hole indoor miniature golf course, get in on some bumper car action or take on your friends in a game of laser tag.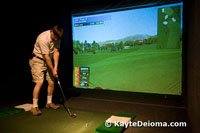 The Bunker Simulated Golf. You'll find more adults than kids practicing hitting balls into a wall-size screen that transmits the position to a computer that shows where your ball would have gone on the virtual green. Indoor shuffle board is another option at Shuffle Town.
Also on the arcade level, the Grand Sierra Cinema is a state of the art movie theatre complete with popcorn and candy concessions.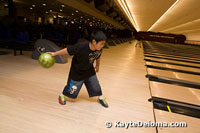 Upstairs, the 24-hour Grand Sierra Bowl 50-lane bowling alley can provide additional hours of fun for the whole family.
The resort also caters to the culinary tastes of the younger set with Johnny Rockets, Round Table Pizza, Port of Subs, the Cable Car Creamery and the Candy Barrel, in addition to their more adult restaurant fare.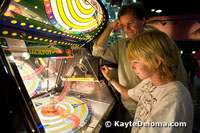 Grand Sierra Resort and Casino< 2500 East 2nd Street Reno, Nevada, 89595 (775) 789-2296 www.grandsierraresort.com