A Shot in the Rain:  Dusseldorf, Germany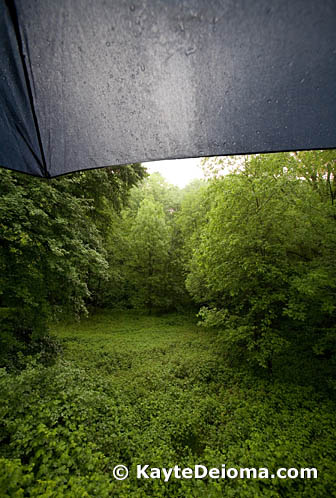 A rainy day in the Neander Valley near the Neanderthal Museum
Dusseldorf is not the first city most Americans think of when planning a trip to Germany unless your interests are in the German fashion industry or you're traveling to one of the many international trade shows held there each year. You might find yourself in Dusseldorf as a departure city for a Rhine cruise or as a gateway to nearby Belgium or Holland. But if you just passed through without stopping to take a look, you'd be missing some truly unique sights that the city has to offer.
The city is pretty compact and easy to negotiate with public transportation once you get your bearings. I would have appreciated a tourist information office inside the train station to help me figure out whether I needed a subway or streetcar line to get to my hotel. Fortunately, someone directed me to the streetcar office across the street from the station, where a nice gentleman sold me a ticket and told me the 709 tram across the street would drop me off a few feet from the Sorat Hotel.
I explored Dusseldorf from the Old Town along the Rhine Promenade to the funky modern architecture of the Media Harbor. I discovered the city's commitment to contemporary art in some of its many art museums. I enjoyed a taste of nightlife at Roncalli's Apollo Varieté, and I seriously investigated the traditional German custom of afternoon Kaffee und Kuchen (coffee and cake). I also paid a visit to the Dusseldorf Film Museum, and took a rainy side trip to the nearby Neander Valley, discovery site of the Neanderthal man and home of the Neanderthal Museum.
story and photos by Kayte Deioma
Dusseldorf Features:
Kid Stuff:
Going Solo:
If You Go:
RainyDay Links: