story and photos by Jamie Rector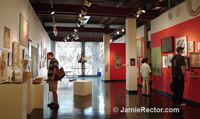 Detroit isn't known as an arts Mecca, but it has plenty of art around to appreciate, from the classics to the avant-garde. From the centuries of fine art on display at the Detroit Institute of Arts to the diversity of vendors at the Artist Market – established in 1932 and still going strong – to newer clusters of galleries springing up in nearby Wyandotte, Detroit has a long history of art appreciation and production.
One form of artistic expression truly unique to Detroit is The Heidelberg Project. This 20-year-old controversial art collection is an outdoor gallery that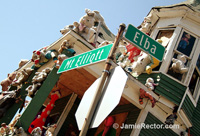 covers one block in a low-income residential neighborhood. Some people love it and some hate it, but either way, it's worth a look to see what everyone is talking about. The controversy has contributed to making it the third most visited site in Detroit.
On a rainy day, it can be seen from your car, but if the rain lets up it's best to walk through the neighborhood. Wild exhibits are splashed in an array of vibrant colors across the houses, lawns and pavement of Heidelberg Street. Discarded items, found by artistTyree Guyton, his late grandfather and former wife Karen Smith have been reborn as part of their imaginative creations.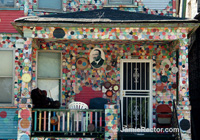 Polka Dots are splashed all over the run down neighborhood. The dots symbolize the various races of the world coming together. Houses are decorated in themes. The various exhibits represent the human condition with seemingly random pieces of junk; Stuffed animals, furniture, shoes, vacuum cleaners…you name it, it's in there somewhere. If it's not there, I'm sure it could easily be incorporated. Make sure you look for the series of faces around the neighborhood representing the diversity of the faces of God. The faces are painted on car hoods and have been exhibited in other locations as The Painted Hoods of Tyree Guyton.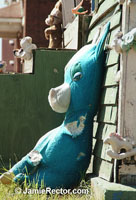 The Heidelberg Project provides after-school art education to neighborhood children and has driven most of the illegal activity out of the neighborhood by making it impossible for them to do business under the scrutiny of hundreds of visitors a day. The City has demolished several of Guyton's creations over the years, which was easy for them to do since the houses were abandoned and derelict City-owned properties before Guyton started working on them. Simultaneously, City art institutions and the international arts community have bestowed upon Guyton a variety of prestigious arts awards and the artist has appeared on Good Morning America and Oprah to talk about the project.
The Heidelberg Project is still surrounded by abandoned and overgrown properties owned by the City of Detroit, but the non-profit Heidelberg Project is working to reclaim the neighborhood one house at a time.
Heidelberg Project
3680 Heidelberg St
Detroit, MI 48207
313-537-8037
www.heidelberg.org