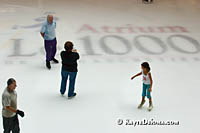 The Atrium Le 1000 was not on my list of potential rainy day activities when I set out for Montreal. I didn't see it listed in any of the guidebooks or webs sites I used for my research. But once in Montreal, it was the one spot everyone mentioned when I talked about fun things to do on a rainy day, so I had to check it out for myself. There are plenty of ice skating rinks in this city where kids learn to skate almost as soon as they learn to walk, but only one in a downtown office block.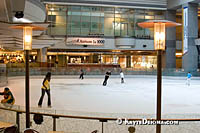 This year-round ice rink is located in Le 1000, a 51 story office building at 1000 de La Gauchetiére Street West, the tallest structure in Montreal. Le 1000 has garnered awards for being environmentally responsible and for the design of the food court surrounding the Atrium Le 1000 skating rink. Of the ring of restaurants, only the Subway sandwich shop was open on a Sunday afternoon, but there was a steady flow of people coming and going on the ice.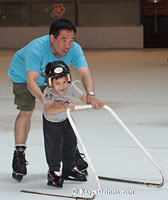 There are several things about the Atrium Le 1000 that make it a great place for children and beginners to take to the ice. According to staff, the ice itself is softer than at most skating rinks. Since the air isn't any colder than cool air conditioning, that's easy to believe. They also provide the Easy Skater, a frame like a walker that you can hold onto while your feet learn how to control the blades. This is such a brilliant idea. For klutzes like me, the idea of skating is intimidating because I've seen how easy your feet can slip out from under you if you don't know what you're doing. Having a sturdy frame to support you as you cross the ice for the first time is a confidence builder. Easy Skaters come in child and adult sizes.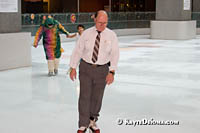 The diversity of the crowd was refreshing, from families with children of all ages to well-seasoned seniors. There were regulars and first-timers, off-season hockey players keeping blade muscles in shape and a bus driver in uniform gliding through his lunch hour for a bit of exercise. A couple young girls were getting some impromptu lessons from a senior coach who was there for an afternoon spin around the ice.
It wasn't raining the afternoon I visited, but it was 95 degrees Fahrenheit (35 C) and humid outside. The Atrium Le 1000 was a perfect place to escape the heat and cool off for a while. The rink is accessible from theUnderground City.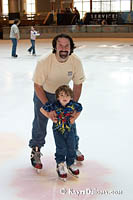 Atrium LE 1000
1000, De La Gauchetiére St. West,
Montréal (Québec) H3B 4W5, Canada
Admission: Canadian $3.50 children, $4.50 student with ID, $5.50 adults for as long as you want to skate.
Equipment rental: skates ($5), helmets ($1) and lockers ($2). Easy Skaters are free.
Parking: Discounted $5 parking is available in the parking garage.
Metro: Bonaventure Station on the Orange Line.
Phone: (524) 395-0555
Email: atrium.le1000@sitq.com
Website: www.le1000.com
Rates are subject to change.