story and photos by Kayte Deioma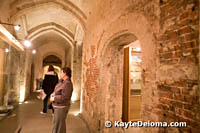 The saying "One man's trash is another man's treasure," could be the motto of the field of archaeology, where a broken pottery shard, a flint or a chicken bone can elicit more excitement than discovering gold. The archaeologists hit the jackpot in Brussels when new construction in 1995 revealed that the lower levels of the Royal Palace on Coudenberg Hill which burned down in 1731, were left largely intact when they flattened the area in 1774 to build a new royal compound. After a six-year excavation, the restored underground passages were opened to the public in 2001.
You won't find any of the royal chambers here, but the maze of cellars, kitchens, cesspools,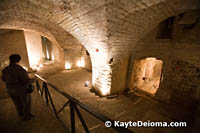 and a street that ran along the outside of the palace give a glimpse of the support system for the Archdukes, and Duchesses, Princes and Emperors who resided here.
The oldest parts of the underground ruins are remnants of the original castle walls from the 12th century. Arches were added to support an expansion of the castle and city fortifications in the 14th century.
The devout Catholicism of the Hapsburgs can be seen in the chapel added to the compound by Emperor Charles V in the first half of the 16th century. Its basic shape remains in the form of a sub-basement, one of two levels built down the hillside so the chapel above would be at palace level.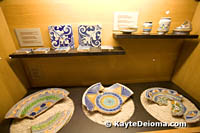 Part of the chapel cellar now houses an exhibit of the artifacts discovered in the excavation. 16th century chamber pots, book clasps and random utensils were recovered from the cesspools. Heater tiles and a plethora of architectural remains and everyday items were found in the rubble of the Grand Hall. One display case contains a colorful collection of broken bits of 16th century majolica architectural tiles, dinner plates and apothecary vessels.
Interpretive panels also break down the royal family tree, putting into context how the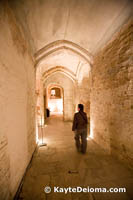 palace's most famous resident, Charles V, the simultaneous King of Spain, Emperor of Germany and Sovereign of the Low Countries, came to be first emancipated and later abdicated his throne in Brussels.
The Coudenberg site spreads under what is now the Place Royal, Rue Royal, the Musical Instrument Museum, the Fine Art Museum, the Royal Palace, and the Bellevue Museum, which is where you'll find the entrance to the underground passages. A very thorough printed English language guide is available at the ticket desk. English-speaking tour guides can be hired by appointment.
Former Palace of Brussels:
Coudenberg Archaeological Site
Mont des Arts/Kunstberg
Place des Palais, 7
1000 Brussels, Belgium
Phone: 32 (0)2.545.08.00
Email: info@coudenberg.com
www.coudenberg.com